What the hell is "abortion trafficking"?
Idaho set to enshrine child cruelty into law ‌ ‌ ‌ ‌ ‌ ‌ ‌ ‌ ‌ ‌ ‌ ‌ ‌ ‌ ‌ ‌ ‌ ‌ ‌ ‌ ‌ ‌ ‌ ‌ ‌ ‌ ‌ ‌ ‌ ‌ ‌ ‌ ‌ ‌ ‌ ‌ ‌ ‌ ‌ ‌ ‌ ‌ ‌ ‌ ‌ ‌ ‌ ‌ ‌ ‌ ‌ ‌ ‌ ‌ ‌ ‌ ‌ ‌ ‌ ‌ ‌ ‌ ‌ ‌ ‌ ‌ ‌ ‌ ‌ ‌ ‌ ‌ ‌ ‌ ‌ ‌ ‌ ‌ ‌ ‌ ‌ ‌ ‌ ‌ ‌ ‌ ‌ ‌ ‌ ‌ ‌ ‌ ‌ ‌ ‌ ‌ ‌ ‌ ‌ ‌ ‌ ‌ ‌ ‌ ‌ ‌ ‌ ‌ ‌ ‌ ‌ ‌ ‌ ‌ ‌ ‌ ‌ ‌ ‌ ‌ ‌ ‌ ‌ ‌ ‌ ‌ ‌ ‌ ‌ ‌ ‌ ‌ ‌ ‌ ‌ ‌ ‌ ‌ ‌ ‌ ‌ ‌ ‌ ‌ ‌ ‌ ‌ ‌ ‌ ‌ ‌ ‌ ‌ ‌ ‌ ‌ ‌ ‌ ‌ ‌ ‌ ‌ ‌ ‌ ‌ ‌ ‌ ‌ ‌ ‌ ‌ ‌ ‌ ‌ ‌ ‌ ‌ ‌ ‌ ‌ ‌ ‌ ‌ ‌ ‌ ‌ ‌ ‌ ‌ ‌ ‌ ‌ ‌ ‌ ‌ ‌ ‌ ‌ ‌ ‌ ‌ ‌ ‌ ‌ ‌ ‌ ‌ ‌ ‌ ‌ ‌ ‌ ‌ ‌ ‌ ‌ ‌ ‌ ‌ ‌ ‌ ‌ ‌ ‌ ‌ ‌ ‌ ‌ ‌ ‌ ‌ ‌ ‌ ‌ ‌ ‌ ‌ ‌ ‌ ‌ ‌ ‌ ‌ ‌ ‌ ‌ ‌ ‌ ‌ ‌
Greetings and salutations, Meteor readers,
We're reaching the end of Women's History Month, which means today's issue contains our last slice of history.
But don't worry, it's a good one: This newsletter's beloved Shannon Melero has briefly poked her head out from maternity leave to tell us a fascinating story about freedom fighter Lolita Lebrón.
We also take a look at the frightening new anti-abortion bill creeping its way toward the Idaho Senate. (What the hell does "abortion trafficking" even mean??)
But first: the news.
Getting ready for April,
Bailey Wayne Hundl
Under His Eye-daho: The latest horrifying twist in the attack on abortion patients: Idaho, which has already completely banned abortions with very narrow exceptions, is set to pass a bill effectively prohibiting minors from traveling literally anywhere to get one. House Bill 242, which passed in the House and will likely pass quickly in Idaho's Republican-led Senate, seeks to establish the new, so-called crime of "abortion trafficking." Under this bill, any adult who helps any minor receive an abortion without a parent's permission—whether in or out-of-state—could be charged with a felony punishable by two to five years in prison. (That includes grandparents, aunts, friends, or abortion-fund volunteers.)
But there's more: H.B. 242 also forbids adults from helping minors obtain "an abortion-inducing drug"—such as mifepristone, which is already under attack. In other words, under this bill, any adult who even drives a teenager to a store or the Post Office to pick up the mifepristone they ordered could be charged with (say it with me) "abortion trafficking."
The bill also includes a civil clause allowing any family member of someone who obtained an abortion—or the person who impregnated them—to sue any medical professional involved up to four years later. The only exception made is if the pregnancy was the result of rape of incest.
So to recap: If you're a minor and you get pregnant in Idaho after this bill passes, you can't get an abortion. You can't get help to travel to another state for an abortion. You can't get a ride to Mail Boxes Etc. if you order an abortion pill in the mail. Basically, no trusted adult can help you get the care you need without risking their freedom.
If you're in Idaho and you need assistance with an abortion, you can find your local Abortion Access Fund here. And if you don't live in Idaho, please consider donating.
  AND:
Nebraska is fighting hard to protect trans youth: Following state Sen. Machaela Cavanaugh's three-week filibuster protesting a ban on gender-affirming healthcare for minors, her colleague Sen. Megan Hunt revealed to the legislature that her son is trans and this bill "would violate my rights to parent my child." But that's not all! She's now

calling out specific senators

to get the last vote needed to squash this bill, including "one of the Rs who privately confessed that they hate this bill + don't support it." Go off, bi queen.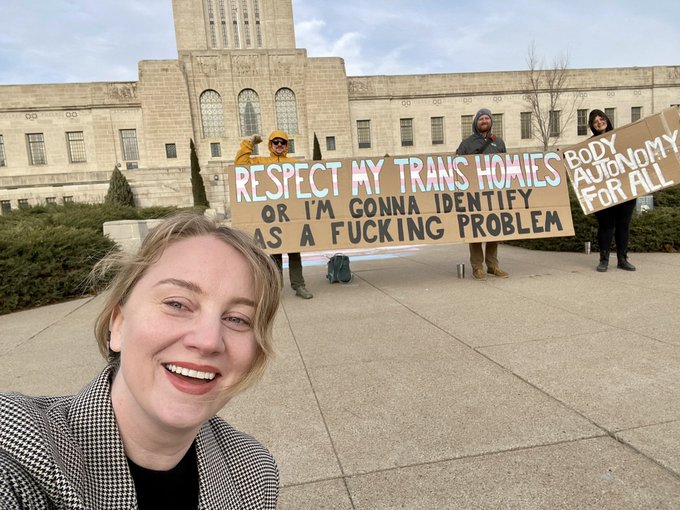 STATE SEN. MEGAN HUNT POSING WITH PROTESTORS (PHOTO BY MEGAN HUNT)
"My Life I Give for the Freedom of My Country"
It's Women's History Month. And every week, a Meteor collective member recounts a piece of women's history that resonates with them. Today, Shannon Melero unpacks the controversial legacy of freedom fighter Lolita Lebrón.
LOLITA LEBRÓN AND TWO OTHER PUERTO RICAN NATIONALISTS AFTER HAVING BEEN ARRESTED BY CAPITOL POLICE ON MARCH 1, 1954. (PHOTO BY LIBRARY OF CONGRESS/CORBIS/VCG VIA GETTY IMAGES)
The story of Lolita Lebrón was first described to me as a cautionary tale of a woman who inexplicably chose to become a terrorist. But as NPR's Michelle Norris said about Lebrón in 2010, "One person's terrorist is another person's freedom fighter."
Lebrón was born in Lares, Puerto Rico—a place infamous because of an 1868 uprising against Spanish colonizers known as El Grito de Lares ("the scream of Lares"). The Spaniards violently quashed the uprising in a day and Lares is now considered the birthplace of Puerto Rican nationalism; this is the soil from which Lolita Lebrón sprung.
Her teen years were also shaped by the Ponce massacre of 1937. By that time, Puerto Rico was no longer a Spanish colony but an American one, and peaceful demonstrators gathered that March 21—Palm Sunday—to protest the occupation. The U.S.-appointed governor of Puerto Rico, Blanton Winship, ordered local police to open fire on the group. They murdered 22 unarmed protestors and wounded more than 100 others.
Like thousands of other islanders, Lebrón moved to the mainland in 1941, enticed by the promise of a better life. At the time, the U.S was looking to solve post-WWII labor shortages by importing cheap labor from a territory, while the Puerto Rican government acquiesced hoping that a population shift would alleviate the island's crippling poverty.
Several years after arriving in New York, she joined and then quickly rose in the ranks of the Puerto Rican Nationalist Party (no easy task for a woman  at the time). At the same time, back at home, the United States was eliminating many of the islanders' constitutional rights, including their ability to display the Puerto Rican flag, and Puerto Rico was officially declared a commonwealth of the U.S.
It was because of this trampling of Puerto Rican sovereignty that wrongly imprisoned Nationalist Party leader Pedro Albizu Campos sent Lebrón a letter ordering an action against the U.S. government in Washington D.C. with the goal of drawing attention to the plight of Puerto Ricans. And she rose to the challenge.
On March 1, 1954, Lebrón led three party members from New York City in an attack on the U.S. House of Representatives. The group entered the House armed, unfurled the Puerto Rican flag, and, as Lebrón shouted, "Viva Puerto Rico libre!", fired into the chamber. Their stated goal, however, was not to commit murder—which is why Lebrón shot her first round into the ceiling.
Five members of Congress were injured while trying to escape and Lebrón and her comrades were arrested, tried, and convicted. She was sentenced to 56 years in prison and served 25 before being pardoned by President Jimmy Carter in 1979. She stayed active in the fight for independence even after her release, and was arrested again at the age of 81 while protesting the American Navy's presence in Vieques. Lebrón died in August 2010, an icon to millions. She never renounced her actions at the Capitol.
To this day there are still debates about whether Lebrón was a lowlife criminal or a revolutionary pushed into action by the very real, very violent oppression that shaped her everyday life. Her legacy isn't something that can be boiled down to the binary of "good woman" or "bad woman."
My hope is that when people think about this complex woman and her contributions to history they keep in mind the note she carried with her to the Capitol, where she believed she would be killed: "My life I give for the freedom of my country."
Shannon Melero is a Bronx-born writer on a mission to establish borough supremacy. She covers pop culture, religion, and sports as one of feminism's final frontiers.
You are receiving this email because you have subscribed to our newsletter.