The one thing Barbie never was
Plus: A historic Texas abortion suit ‌ ‌ ‌ ‌ ‌ ‌ ‌ ‌ ‌ ‌ ‌ ‌ ‌ ‌ ‌ ‌ ‌ ‌ ‌ ‌ ‌ ‌ ‌ ‌ ‌ ‌ ‌ ‌ ‌ ‌ ‌ ‌ ‌ ‌ ‌ ‌ ‌ ‌ ‌ ‌ ‌ ‌ ‌ ‌ ‌ ‌ ‌ ‌ ‌ ‌ ‌ ‌ ‌ ‌ ‌ ‌ ‌ ‌ ‌ ‌ ‌ ‌ ‌ ‌ ‌ ‌ ‌ ‌ ‌ ‌ ‌ ‌ ‌ ‌ ‌ ‌ ‌ ‌ ‌ ‌ ‌ ‌ ‌ ‌ ‌ ‌ ‌ ‌ ‌ ‌ ‌ ‌ ‌ ‌ ‌ ‌ ‌ ‌ ‌ ‌ ‌ ‌ ‌ ‌ ‌ ‌ ‌ ‌ ‌ ‌ ‌ ‌ ‌ ‌ ‌ ‌ ‌ ‌ ‌ ‌ ‌ ‌ ‌ ‌ ‌ ‌ ‌ ‌ ‌ ‌ ‌ ‌ ‌ ‌ ‌ ‌ ‌ ‌ ‌ ‌ ‌ ‌ ‌ ‌ ‌ ‌ ‌ ‌ ‌ ‌ ‌ ‌ ‌ ‌ ‌ ‌ ‌ ‌ ‌ ‌ ‌ ‌ ‌ ‌ ‌ ‌ ‌ ‌ ‌ ‌ ‌ ‌ ‌ ‌ ‌ ‌ ‌ ‌ ‌ ‌ ‌ ‌ ‌ ‌ ‌ ‌ ‌ ‌ ‌ ‌ ‌ ‌ ‌ ‌ ‌ ‌ ‌ ‌ ‌ ‌ ‌ ‌ ‌ ‌ ‌ ‌ ‌ ‌ ‌ ‌ ‌ ‌ ‌ ‌ ‌ ‌ ‌ ‌ ‌ ‌ ‌ ‌ ‌ ‌ ‌ ‌ ‌ ‌ ‌ ‌ ‌ ‌ ‌ ‌ ‌ ‌ ‌ ‌ ‌ ‌ ‌ ‌ ‌ ‌ ‌ ‌ ‌ ‌ ‌ ‌
Come on, Meteor readers, let's go party,
After years of anticipation, debate, hot pink outfits, and hot pink lake water, the Barbie movie premieres tomorrow. In today's newsletter, culture critic Scarlett Harris combs through the 64-year history of the controversial doll to understand the (potentially radical) reasons why she never became a mother.
And because we know you are obsessed like we are, we've also assembled The Ultimate Barbie Reading Guide, covering everything from the doll's accidental feminist legacy to her impact on Black and brown girls.
But first, the news.
Thinking pink,
Bailey Wayne Hundl
Texas women fight back: Three women testified yesterday as part of a 15-plaintiff lawsuit against the state of Texas for allegedly being denied life-saving abortion care due to the state's draconian abortion ban. The ban, one of the most severe in the country, makes it a felony to perform an abortion, and doing so could result in a fine of up to $10,000, the loss of the doctor's medical license, and up to a lifetime in prison. The suit brought by the Center for Reproductive Rights asks for the law to be temporarily blocked and for the state to clarify what constitutes a medical emergency that will allow for an abortion.
One of the women who shared her harrowing experience on the stand was Amanda Zurawski, who first told her story to the Meteor last fall. Zurawski was denied the procedure, her life put at risk. "I survived sepsis, and I don't think today was much less traumatic than that," she said. Another plaintiff, Samantha Casiano, shared that she was forced to deliver her fetus even after learning it would not develop a skull or brainstem. As she told her story, she vomited on the stand, and the court had to go into recess.
This hearing is nothing short of historic. According to the Texas Tribune, these women are likely the first to testify about the impacts of abortion bans on their bodies since 1973. Despite their courageous testimony, the state is pushing back, claiming the law doesn't need to be amended and putting the onus instead on doctors. But that doesn't change the fact that if these women win, Texans who need abortions will not have to go through what they did.
  AND:
The FIFA Women's World Cup starts today, the first where the American players will be

paid equal

to their male counterparts. This is in part thanks to absolute legend Megan Rapinoe—who will be competing for the last time this year. So hats off to you, Megan. We'll be cheering you and the rest of the players from the sidelines!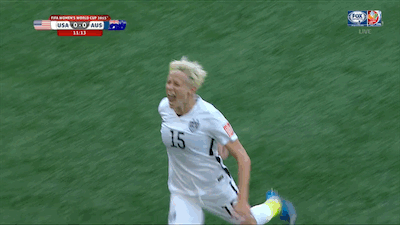 Patrick Braxton, the first Black mayor of Newbern, Alabama—a town with an 85% Black population—is suing the former mayor and many city officials. For at least 60 years before Braxton became mayor in 2020, the town had never held an election; the (white) former mayor simply handed the position to their (white) successor. Braxton's lawsuit alleges that after becoming mayor (by being the only person to submit proper qualifying paperwork), the vengeful old guard did everything in their power to block him from doing his job, such as locking Town Hall, destroying official town records, following Braxton with drones, and more.

Why are Republican attorney generals trying to make it legal to obtain your private medical records? The answer's as simple as it is unfortunate: abortion. On her show last night, Rachel Maddow uncovered a joint effort by 19 AG's to make it possible to track down anyone who obtained legal out-of-state abortions so they could be punished for it in their home state.
As if Florida hadn't already done enough to weaponize its schools against marginalized people, the state's Board of Education approved new standards of teaching on Wednesday—and they read like something out of a Simpsons episode. The

new standards

say students should be taught that enslaved people "developed skills" that "could be applied for their personal benefit."
Trans icon and Stonewall veteran Miss Major has been fighting the good fight for a long damn time—and she's not done yet. She's been traveling the country asking people to stand up for trans rights. "I decided, well, someone's got to do something," she said. "And then it dawned on me, well, no one's going to do it but me."
There's only one thing this doll hasn't done. Why, exactly?
A BARBIE DOLL LOUNGES IN HER PACKAGING. (PHOTO BY DAVID BENITO/GETTY IMAGES)
The opening scene of Barbie, the much-anticipated movie event hitting cinemas tomorrow directed by Greta Gerwig and starring Margot Robbie, is a parody of Stanley Kubrick's 2001: A Space Odyssey. In it, young girls smash their baby dolls in favor of Robbie's Barbie. Outfitted in the fashion doll's original get-up of a black-and-white-striped bathing suit, cat-eye sunglasses, and permed bangs, Robbie stands in the center, a glamazon, signaling the dawn of a new woman.
Barbie, the doll, was conceived by Ruth Handler, an executive at Mattel, in the 1950s. After observing her daughter, Barbara, for whom Barbie is named, assigning adult roles to her paper dolls, she came up with the idea—and modeled her creation after a doll based on a German comic strip chronicling the life of a sex worker, Bild Lilli.
Before Barbie hit the market in 1959, dolls for girls were primarily babies meant to teach their owners the caregiving skills they would inevitably need for lives of housewifery and childrearing. But Barbie brought something new: She represented a wide range of fulfilling lifestyles outside of traditional feminine responsibilities. Barbie could be anything she wanted: an astronaut, an artist, even the President. But, in all these years, she's never wanted to be a mother.
Barbie's impact has been widely debated, and Barbie leans into this. Is she a feminist icon or nightmare? But one thing cannot be denied: Since her inception, Barbie has been the main character of her own story. She was made to be someone rather than someone's someone. And in keeping with Barbie tradition, the film's fantastical Barbieland does away with traditional gender roles. Ken (launched as a boyfriend doll in 1961) lives in service of Barbie, even going so far as to be referenced as "and Ken" in his mugshot—a pure appendage, even if Ken doesn't have one himself. In a reversal of the biblical creation myth, Ken is spawned from Barbie. "I only exist in the warmth of your gaze," he says. And, unlike Barbie, he has no occupation—his job is literally described as "beach" in the film.
The message was radical for its time: When the doll debuted, there were few images of female breadwinners. Women couldn't even get a credit card in their own name without permission from a father or husband until 1974, almost twenty years after Barbie had enjoyed financial independence and career achievement in fields such as modeling (her first occupation), nursing (1961), space and aeronautics (1965 and 1966, respectively), surgery (1973) and Olympic gymnastics (1974).
All those jobs become even more impressive when you consider that, canonically, Barbie is 19 years old. Maria Teresa Hart, the author of the book Doll, points out that her age at the time of her introduction would have put her on the precipice of two possible paths: marriage and babies or continuing her current lifestyle as a Career Girl with a bevy of friends. "That ambiguity is part of the attraction: she's at this tipping point where she could make a variety of choices," says Hart. "Every avenue is open to her."
MARGOT ROBBIE AT A PRESS JUNKET FOR THE BARBIE MOVIE (PHOTO BY RODIN ECKENROTH/FILMMAGIC)
And yet Barbie never travels down the avenue of parenthood, unless you count the amount of time she spent caring for her sisters, Stacey and Chelsea. (If, during your childhood, Barbie's youngest sister was named Kelly: congratulations, you're officially old and missed Kelly's rebrand as Chelsea in 2011.) Barbie's childlessness was intentional: Handler wanted to show her daughter that fulfillment can exist outside of the home. In the film, her open-plan, multi-story dream house is a dwelling for one—no child safety, no doors. "It's very definitely a house for a single woman," production designer Sarah Greenwood told Architectural Digest.
Barbie's other accessories weren't made with would-be kids in mind, either—the Barbie Porsche convertible I had as a child definitely didn't have a car seat, and the only baby in sight belonged to the much-maligned Midge, a visibly pregnant doll who was discontinued as Barbie's bestie in 1967, only to reappear later as Barbie's married mother friend sans baby bump (though she still angered conservative parents who thought she wasn't coded strongly enough as a married woman). Documentary filmmaker Therese Schechter, who most recently directed the child-free doco My So-Called Selfish Life, expresses incredulity about Midge's predicament. "No one has children in that world; why is Midge going to have a baby?"
For some, Barbie might still just be a silly doll with an eternally perky and unattainable body. But, as Willa Paskin wrote, Barbie being child-free "remains one of the most radical things about her." And in a country hell-bent on forcing more and more people to give birth, her childlessness takes on a new and refreshing meaning. As Robbie noted in Vogue, Barbie doesn't have reproductive organs—which is probably why the elected representatives of Barbieland haven't tried to police what she does in the Dreamhouse bedroom.
Scarlett Harris is a culture critic and author of the book A Diva Was a Female Version of a Wrestler: An Abbreviated Herstory of World Wrestling Entertainment. You can follow her on Twitter @ScarlettEHarris and read her previously published work at her website, The Scarlett Woman.
Tomorrow is the official premiere of the Barbie movie, so we've put together The Ultimate Barbie Reading Guide for everyone who loves—and hates!—the world's most famous doll.
You are receiving this email because you have subscribed to our newsletter.