The growing viral resistance to state extremism
Plus: job training for newborns! ‌ ‌ ‌ ‌ ‌ ‌ ‌ ‌ ‌ ‌ ‌ ‌ ‌ ‌ ‌ ‌ ‌ ‌ ‌ ‌ ‌ ‌ ‌ ‌ ‌ ‌ ‌ ‌ ‌ ‌ ‌ ‌ ‌ ‌ ‌ ‌ ‌ ‌ ‌ ‌ ‌ ‌ ‌ ‌ ‌ ‌ ‌ ‌ ‌ ‌ ‌ ‌ ‌ ‌ ‌ ‌ ‌ ‌ ‌ ‌ ‌ ‌ ‌ ‌ ‌ ‌ ‌ ‌ ‌ ‌ ‌ ‌ ‌ ‌ ‌ ‌ ‌ ‌ ‌ ‌ ‌ ‌ ‌ ‌ ‌ ‌ ‌ ‌ ‌ ‌ ‌ ‌ ‌ ‌ ‌ ‌ ‌ ‌ ‌ ‌ ‌ ‌ ‌ ‌ ‌ ‌ ‌ ‌ ‌ ‌ ‌ ‌ ‌ ‌ ‌ ‌ ‌ ‌ ‌ ‌ ‌ ‌ ‌ ‌ ‌ ‌ ‌ ‌ ‌ ‌ ‌ ‌ ‌ ‌ ‌ ‌ ‌ ‌ ‌ ‌ ‌ ‌ ‌ ‌ ‌ ‌ ‌ ‌ ‌ ‌ ‌ ‌ ‌ ‌ ‌ ‌ ‌ ‌ ‌ ‌ ‌ ‌ ‌ ‌ ‌ ‌ ‌ ‌ ‌ ‌ ‌ ‌ ‌ ‌ ‌ ‌ ‌ ‌ ‌ ‌ ‌ ‌ ‌ ‌ ‌ ‌ ‌ ‌ ‌ ‌ ‌ ‌ ‌ ‌ ‌ ‌ ‌ ‌ ‌ ‌ ‌ ‌ ‌ ‌ ‌ ‌ ‌ ‌ ‌ ‌ ‌ ‌ ‌ ‌ ‌ ‌ ‌ ‌ ‌ ‌ ‌ ‌ ‌ ‌ ‌ ‌ ‌ ‌ ‌ ‌ ‌ ‌ ‌ ‌ ‌ ‌ ‌ ‌ ‌ ‌ ‌ ‌ ‌ ‌ ‌ ‌ ‌ ‌ ‌ ‌
Dearest Meteor readers,
It's still Lesbian Awareness Week! How have you been celebrating? 🧐
No matter how you celebrated, I think the White House outdid you; press secretary Karine Jean-Pierre (the first openly LGBTQ person to serve in the position) invited the cast of "The L Word" over. During the press conference, Jean-Pierre said, "As a young queer woman of color, I felt alone and sometimes invisible. For so many people in our community, 'The L Word's' impact cannot be understated." PREACH!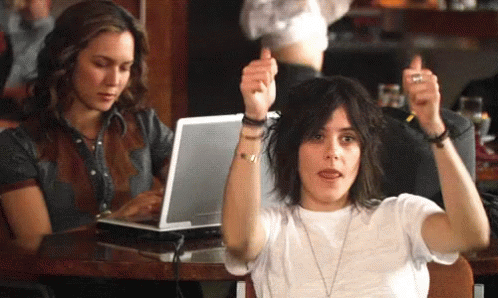 Hopefully you've noticed the latest surge in politicians sticking their necks out for causes in which they believe—like Montana state Rep. Zooey Zephyr, who continues to be punished for sticking up for trans rights. (More on that later.) Megan Carpentier sat down with A'shanti Gholar, the president of Emerge, to discuss this recent spark of authentic passion in state legislatures and how we can keep it going.
Keeping the fire burning,
Bailey Wayne Hundl
11,000 people without a voice: First there was Tennessee, where two Black state legislators were expelled for leading gun-reform protests. Now there's Montana, where the Republican-led House has voted to completely ban state Rep. Zooey Zephyr, the state's first openly trans elected official, from participating in debates for the rest of this year's legislative session (which ends on May 6).
This move follows days of House Speaker Matt Regier blocking Zephyr's requests to speak after she (accurately) told Republicans who were trying to interrupt her floor speech about a trans healthcare ban that they had "blood on their hands." Zephyr will still be allowed to cast her vote—but can only do so remotely, leaving the 11,000 constituents she represents without a voice in House debates.
Not to be deterred, Zephyr has set up shop on the hallway bench right outside the chamber. According to Zephyr, her colleagues tried to have her removed. But since she's only been banned from the chamber itself, she refused.
As a trans person, it breaks my heart that, after finally building up enough public support to elect one of our own, we have to watch her be removed for defending our community.
Montana House majority leader Sue Vinton chastised Zephyr Wednesday for not following "the rules of decorum." But as Zephyr said in response, "If you use decorum to silence people who hold you accountable, all you are doing is using decorum as a tool of oppression."
"This is how you save democracy"
A'shanti Gholar on the new viral state legislators
DEMOCRATIC STATE REP. JUSTIN PEARSON OF MEMPHIS ACKNOWLEDGES SUPPORTERS AFTER BEING EXPELLED FROM THE STATE LEGISLATURE ON APRIL 6, 2023 IN NASHVILLE, TENNESSEE. (PHOTO BY SETH HERALD/GETTY IMAGES)
Montana state Rep. Zooey Zephyr. Michigan state Sen. Mallory McMorrow. The Tennessee Three (Reps. Justin Pearson, Justin Jones, and Gloria Johnson). Nebraska state Sens. Machaela Cavanaugh and Megan Hunt. You may have seen these state legislators on social media and TV, vocally pushing back against extremist policies on the floors of their states' legislative chambers—and often getting punished as a result.
Why are state legislators' actions becoming so prominent? In part because of a new wave of politicians—and the people who've supported them. As president of Emerge, A'shanti Gholar is one of those supporters; she's been helping get liberal women elected at the state, local, and federal level for years. She spoke to The Meteor this week about what we're seeing—and why it matters at a time in which Americans' trust in government is at historic lows.
Megan Carpentier: Why do you think so many of these moments in state legislatures are going viral?
A'shanti Gholar: Our democracy is under attack, and people want to know that there are politicians who are fighting for them, who are pushing back, who aren't just going to say, Well, this is just the way the country's going to go and everyone has to deal, knowing that it's "the way the country's going to go" will disproportionately impact Black and Brown people, young Americans, LGBTQ Americans.
When we break it down, there are 520,000 elected offices and the majority of those races—our elected officials—are at the state and local level. And you have voters across this country who feel that their elected officials have failed them, so they're voting them out and/or watching closely what their elected officials are doing. And that's why we're seeing a lot of these viral moments.
I love that we see so many Emerge alums [like Mallory McMorrow] who are leading these viral efforts by speaking up, getting on that chamber floor and just speaking truth to power knowing the looks that you're going to get, the possible retaliation, the hit pieces from potential opponents. This is how you save democracy.
A'SHANTI GHOLAR (PHOTO COURTESY OF EMERGE)
Do you feel like the kind of people who are getting elected now, especially the younger people, are more willing to take risks than their predecessors?
When they're giving these viral speeches, I don't think they're doing it to play it safe! They just know it's what they have to do and, if they end up losing their seats, they know that they went down fighting—protecting their constituents, representing them.
And these young elected officials, especially Gen Zers, I like to say they're just built different. For them, this is 100% about service. It's not about power, it's not about ego, it's not about a title. All of these viral videos are them being on the floor doing what they were elected to do and serving their communities.
What do you think people should understand as they're watching these young people taking to the chamber floor and really speaking their own truths?
There's also older women doing it! It's not just the young people that they should be looking at; there's also their legislative peers who are joining in and are fighting back as well.
We can look to someone like Colonel Pam Stevenson in Kentucky, who had a viral speech against the anti-trans legislation there.
We should be looking at Tennessee Rep. Gloria Johnson: She is the perfect example of an accomplice. We talk about allies, but what Black and Brown people want are accomplices—people who are going to stand in the trenches and also risk getting expelled. She is the perfect example of an accomplice, which is what I would love for my white sisters to aim to be when they look at her.
If we're in a meeting and someone says something wholly inappropriate about Black people, an ally after the meeting comes up and says, "A'shanti, that was just so awful what they said. Sorry you had to hear that." An accomplice says in the middle of the meeting, "No. What you just said, John, Brad, Chad, whoever, was completely inappropriate and you need to apologize and you need to rethink that." That's the difference between an ally and an accomplice.
What is one thing you want people to understand about these viral moments?
What ties it all together is authenticity; that is what we are seeing from everyone who has had a viral moment. It is just who they are. I really want it to be a message to the young women who are thinking about running for office that they can run for office as their authentic selves and win.
Megan Carpentier is currently a freelance editor. She's also worked at Oxygen, NBC News, The Guardian, and Jezebel, among other places. Her work has been published in Dame, Rolling Stone, Glamour, The New Republic, and many more.
You are receiving this email because you have subscribed to our newsletter.