There Have Been 948 Gun Violence Incidents on K-12 Campuses Since Sandy Hook
Dear Meteor readers,
Today we reflect on the 10-year anniversary of Sandy Hook, which takes place December 14. What have we learned since then, and where do we go from here?
We also have some news. Let's dive right in.
Praying for a different way,
Samhita Mukhopadhyay
Ten years ago: On December 14, 2012, an armed gunman entered Sandy Hook Elementary School in Newtown, Connecticut and killed 26 people—a majority of whom were children under the age of 10. It was the deadliest mass shooting in an elementary school in U.S. history.
Afterward, Americans seemed to agree: Sandy Hook needed to be a turning point. Kids should not be gunned down in their own classrooms.
Yet in just a four-year span after Sandy Hook, there was Taft Union High School in California. There was Ronald E. McNair Discovery Learning Academy in Georgia. Sparks Middle School in Nevada. Arapahoe High School in Colorado. Berrendo Middle School in New Mexico. North Thurston High School in Washington. South Macon Elementary in North Carolina. Harrisburg High School in South Dakota. Madison High School in Ohio. Antigo High School in Wisconsin. Mueller Park Junior High School in Utah. All incidents in which teenagers were either wounded or killed.
And these incidents aren't flukes. Over the ten years since Sandy Hook, incidents of school-based gun violence have increased at an alarming rate. According to the Center for Homeland Defense and Security K-12 Shooting Database, 948 gun violence incidents have taken place on K-12 campuses since December 2012. "Gun violence incidents" include any incident where a gun is "brandished, fired, [or] a bullet hits school property for any reason regardless of the number of victims, time of day, or day of week." As a result, 273 people have been killed, 722 have been wounded, and thousands have been traumatized by witnessing gun violence at school.
For the parents of Sandy Hook, the trauma of their loss was compounded by a new 21st-century ordeal: a mass disinformation campaign that sought to invalidate their experience. Alt-right radio host and conspiracy theorist Alex Jones relentlessly spread lies claiming the shooting was a hoax. He called the parents "actors" and told his audience (who believed him) that Sandy Hook was a staged event intended to remove guns from the hands of law-abiding citizens. Courts ultimately found Jones guilty of defamation and ordered him to pay $965 million in damages to eight of the families. This reckoning wouldn't have happened without the efforts of Sandy Hook families who, in the wake of this tragedy, refused to be silent about the twin plagues of gun violence and disinformation.
As for the direction we're headed with gun violence: This year saw another series of incomprehensible mass shootings, including the murder of 19 children and two adults at Robb Elementary School in Uvalde, Texas. Like Sandy Hook, Uvalde was heralded as a turning point—and many gun reform advocates believe the turning is actually beginning to happen. In June, the Senate was able to reach a deal on gun reform that, while not banning assault rifles outright, did begin to limit who can access them.
But as National Youth Poet Laureate Amanda Gorman said, "It takes a monster to kill children. But to watch monsters kill children again and again and do nothing isn't just insanity—it's inhumanity."
For the sake of the families of Sandy Hook, let's not allow this anniversary to be an occasion where we simply mourn the murder of children as an inevitable part of American life. If you take one small action today to protect children from gun violence, consider a donation to Sandy Hook Promise, which works to end violence nationwide through education, gun reform, and (most crucially) a "Know the Signs" program geared toward caring for students who exhibit violent inclinations.
 Let's fight for a better future—together.
AND: 
This afternoon, in 2022, President Biden signed into law the Respect for Marriage Act, which grants federal protections to same-sex and interracial married couples. I know, it feels like an announcement we should have made long ago. But let's not lose that loving feeling: this is still a joyous occasion.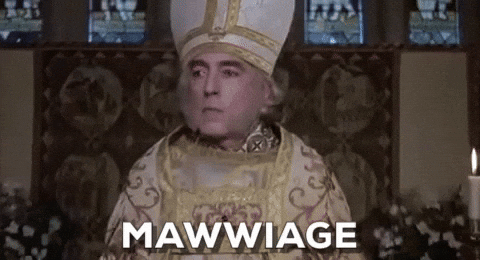 You are receiving this email because you have subscribed to our newsletter.