Roe on the line: An abortion access briefing
On December 1st, the Supreme Court will hear a case in which the state of Mississippi has asked the Court to overrule Roe v. Wade and end the constitutional right to abortion. Dobbs v. Jackson Women's Health Organization challenges a state law that bans abortions after 15 weeks; it will be the first time since 1973—the year of Roe v. Wade—that the Court will rule on a pre-viability abortion ban.
Meanwhile, 22 states have laws that could be used to restrict the legal status of abortion if Roe is overturned. And in Texas, Senate Bill 8 went into effect in September, effectively eliminating nearly all abortion care in the state.
Against this dire backdrop, what does the fight for reproductive freedom look like in 2022 and beyond? Join The Meteor and the United State of Women for Roe on the Line: An Abortion Access Briefing on Monday, November 29 at 6 pm ET to find out.
JOIN US NOVEMBER 29
We'll hear from legal experts and grassroots organizers about the road ahead, including:
Please join us for this informative free briefing and spread the word—everyone is welcome!
SIGN UP NOW FOR THIS FREE VIRTUAL BRIEFING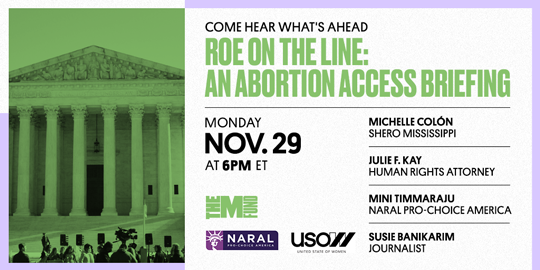 The Meteor Fund welcomes individuals with disabilities to participate in its programs and activities. If you would like to request accommodations or have questions, please contact [email protected] in advance of your participation. Please note that we will make every effort to secure services, but that services are subject to availability.
This workshop is produced by The Meteor and is supported by The Meteor Fund, an affiliated charitable project of The Meteor. The Meteor Fund is fiscally-sponsored by New Venture Fund, a 501(c)(3) public charity.