One year till the midterms: Come learn what's ahead
After historic voter turnout during the 2020 election, many states retaliated: This year alone, 19 states have enacted 33 laws that make it harder to vote, including those limiting early and mail-in voting, or establishing more stringent ID requirements. Many of these new restrictions are in states where it was already more difficult to vote, and the measures hit communities of color hardest. And while federal legislation like the Freedom to Vote Act could protect voters' rights, Senate Republicans recently blocked the bill from receiving a floor vote.
With the 2022 midterm elections looming, there is so much at stake. What can we each do to protect voting rights in the year ahead? Please join The Meteor for One Year Till the Midterms: A Voting Rights Briefing on Monday, November 8, 2021 at 6 pm ET to find out.
JOIN US NOVEMBER 8 TO TALK VOTING RIGHTS
Advocates and legal experts will give us an overview of the current crisis and share how we can all take action. We'll hear from Melanie L. Campbell, president and CEO of The National Coalition on Black Civic Participation and convener of The Black Women's Roundtable; election law and voting rights expert Marc Elias, founding partner of Elias Law Group and founder of Democracy Docket; and María Teresa Kumar, founding CEO of Voto Latino, the country's largest Latinx voter registration and mobilization organization. The conversation will be moderated by filmmaker Dawn Porter, founding member of The Meteor and director of "John Lewis: Good Trouble."
We'll learn:
The current landscape of the voting rights crisis
The issues at stake as we head into the 2022 midterms—and why protecting voter access now is critical
Possible solutions to protect voters' rights—and what's realistic given our current Congress
The most important steps we each can take in the year to come
Please join us for this informative free briefing and spread the word—everyone is welcome!
SIGN UP NOW FOR THIS FREE VIRTUAL BRIEFING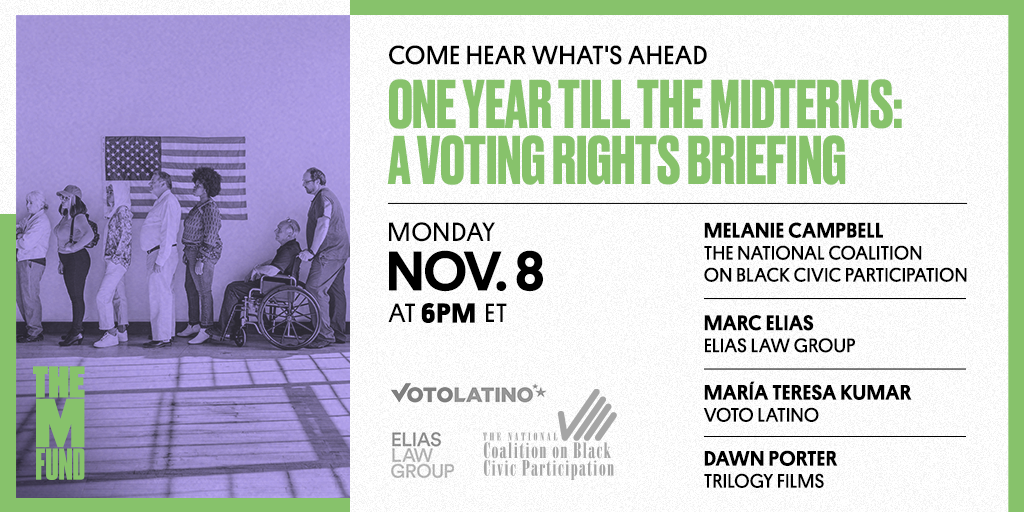 The Meteor Fund welcomes individuals with disabilities to participate in its programs and activities. If you would like to request accommodations or have questions, please contact [email protected] in advance of your participation. Please note that we will make every effort to secure services, but that services are subject to availability.
This workshop is produced by The Meteor and is supported by The Meteor Fund, an affiliated charitable project of The Meteor. The Meteor Fund is fiscally-sponsored by New Venture Fund, a 501(c)(3) public charity.
Photo Credit: Getty Images