Listen: Professor Anita Hill & Dr. Christine Blasey Ford
In 2018, Dr. Christine Blasey Ford stood before the Senate Judiciary Committee and testified that Supreme Court nominee Brett Kavanaugh had sexually assaulted her when they were both in high school, allegations he denies. Many of us watched—but perhaps the only person who truly understood what Dr. Ford was going through was Professor Anita Hill, who had appeared before the same committee 27 years earlier.
For the third episode of Because of Anita—our podcast about the legacy of Professor Hill's 1991 testimony in the Supreme Court confirmation hearings of Clarence Thomas—Professor Hill and Dr. Ford sat down for their first-ever public conversation. The two women discussed their shared experiences, their lives beyond the hearing rooms, and their hopes for the future.
Professor Hill is the Professor of Social Policy, Law, and Gender Studies at Brandeis University and author of the new book Believing: Our Thirty-Year Journey to End Gender Violence. Dr. Ford is a professor at Palo Alto University and Stanford University School of Medicine.

"I THINK THEY DO BELIEVE"
In their intimate, wide-ranging conversation, Professor Hill and Dr. Ford talk about why they testified, who gets believed, and whether they would do it again (short answer: it's complicated). Just a few highlights:
ON TESTIFYING
Professor Anita Hill: "There was a whole summer experience of uncertainty that I think people don't take into account very much. They think, 'Okay, she was called to testify, she testified, then she left.' And they see it as like, that day and that experience. And there is, you know, the lead up to it, the follow up afterwards, that people really aren't quite aware of, I think."
Dr. Christine Blasey Ford: "Yes. That whole summer was 24/7 stressful. And trying to figure out what I was supposed to do, and how could I communicate the information, and who was the best person to go to, and just really not knowing what to do."
ON WHETHER THE SENATORS, AND THE PUBLIC, BELIEVE SURVIVORS
Professor Anita Hill: "I think they do believe. I think they're afraid of believing, so they may even say they don't believe. But I think somewhere inside they do believe, but they're just not willing to do anything about it."
Dr. Christine Blasey Ford: "Sitting in that room—in that chair—and seeing on people's faces and thinking that they did believe me. If I had to bet, I think most of them did."
ON THE AFTERMATH OF TESTIFYING
Professor Anita Hill: "I have this very protective instinct, and when we met, one of my concerns was that you were going to be okay. And I did leave feeling assured that you had this strong core that would get you through it."
Dr. Christine Blasey Ford: "Yes, I remember you saying that I would have a much better perspective in five years, and in twenty five years, so. And you were right."
Professor Anita Hill: "Well, good, good. I like being right sometimes. Especially about that."
ON WHETHER THEY WOULD DO IT AGAIN
Dr. Christine Blasey Ford: "All the smear media and the destroying of reputation and attempt at destroying career…and I'm absolutely sure that I would do it again. And that's not to say that it hasn't been really, really, really hard and that I'm still not as okay as I would like to be, three years out of the situation… But I do firmly believe I would do it again."
Professor Anita Hill: "The why that I testified is just as important to me today as it was thirty years ago when I was struggling with this during the summer of 1991. The why is because the Supreme Court matters and who's on the Supreme Court matters. And I really want to believe in the integrity of that body because we now more than ever see how important the decisions that it makes are to all of us."
This conversation was powerful to listen in on, and we're so happy we can share it with you now. Please subscribe so you don't miss our final episode when it drops. The next episode's guests include legal advocate Fatima Goss Graves, journalist Irin Carmon, and 'me too.' founder Tarana Burke.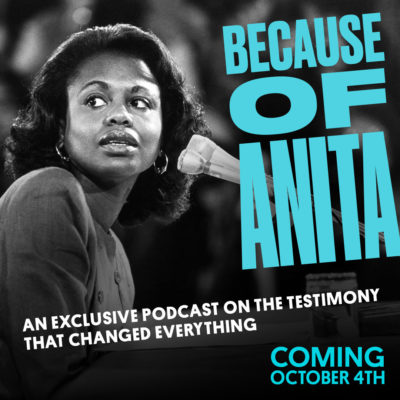 Because of Anita is co-hosted by Dr. Salamishah Tillet, cultural critic at The New York Times, and Cindi Leive, co-founder of The Meteor; it's produced by The Meteor and Pineapple Street Studios.
Listen now and subscribe on Apple Podcasts, Spotify, Audible, Stitcher, or wherever you get your podcasts.
Photo credit: Bettmann / Getty Images
---
JOIN US IN LOS ANGELES FOR A SPECIAL EVENT WITH PROFESSOR ANITA HILL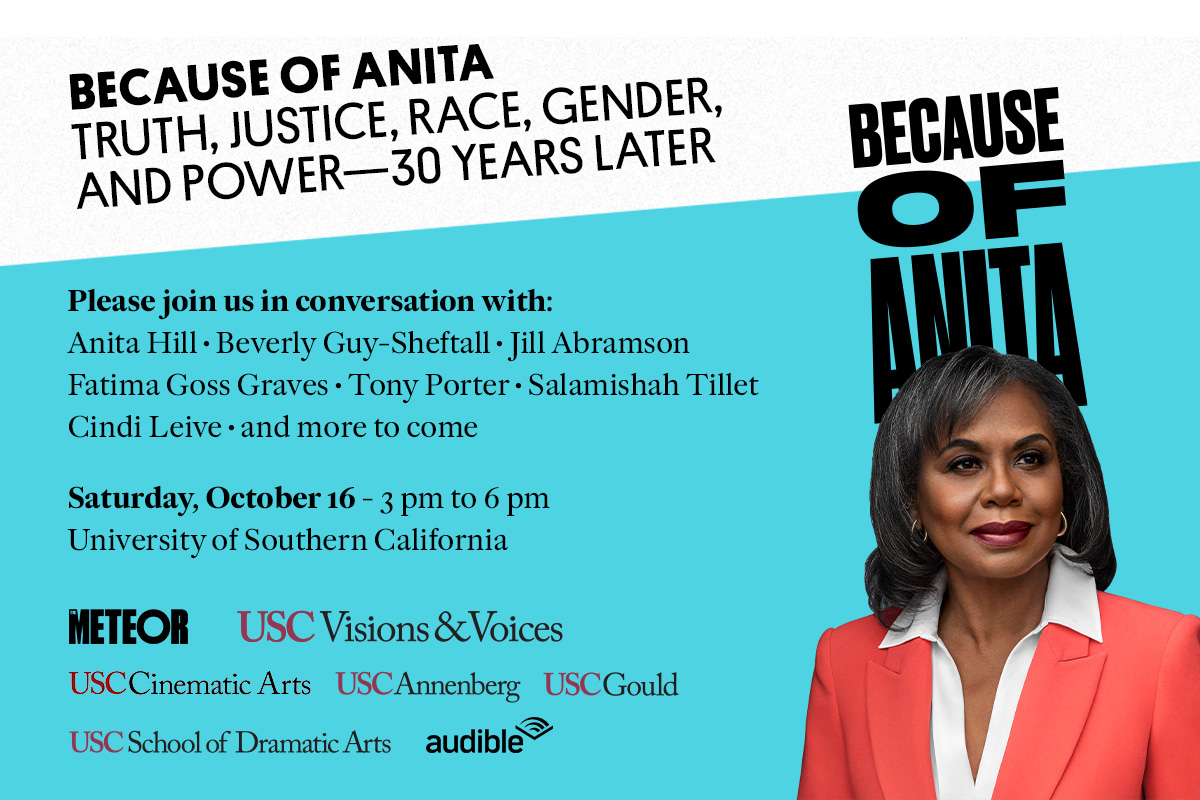 Thirty years after Professor Anita Hill started a national conversation about sexual harassment in the workplace, how far have we come on issues of gender-based violence? If you're in the Los Angeles area, please join Dr. Salamishah Tillet and Cindi Leive, hosts of our new podcast Because of Anita, for an afternoon exploring these issues—featuring Professor Hill herself.
Because of Anita: Truth, Justice, Race, Gender, and Power—30 Years Later will be held on October 16 from 3 pm to 6 pm PT at the University of Southern California. This special event will feature artists, scholars, and activists in dialogue, along with a special keynote conversation between Professor Hill, author of Believing, and Beverly Guy-Sheftall, Anna Julia Cooper Professor of Women's Studies at Spelman College. Visit The Meteor for updates. Rsvp now for this free event.
Presented by USC Visions and Voices: The Arts and Humanities Initiative and The Meteor. Co-sponsored by the USC Annenberg School for Communication and Journalism, USC School of Cinematic Arts, USC School of Dramatic Arts, and USC Gould School of Law. Special thanks to Audible.