Emily Ladau: Disability is part of the human experience
I was born in 1991—just a year after the Americans with Disabilities Act became law—with a genetic joint and muscle disorder called Larsen syndrome. My mom has it, too. My disability has always been part of my life—a natural state of being.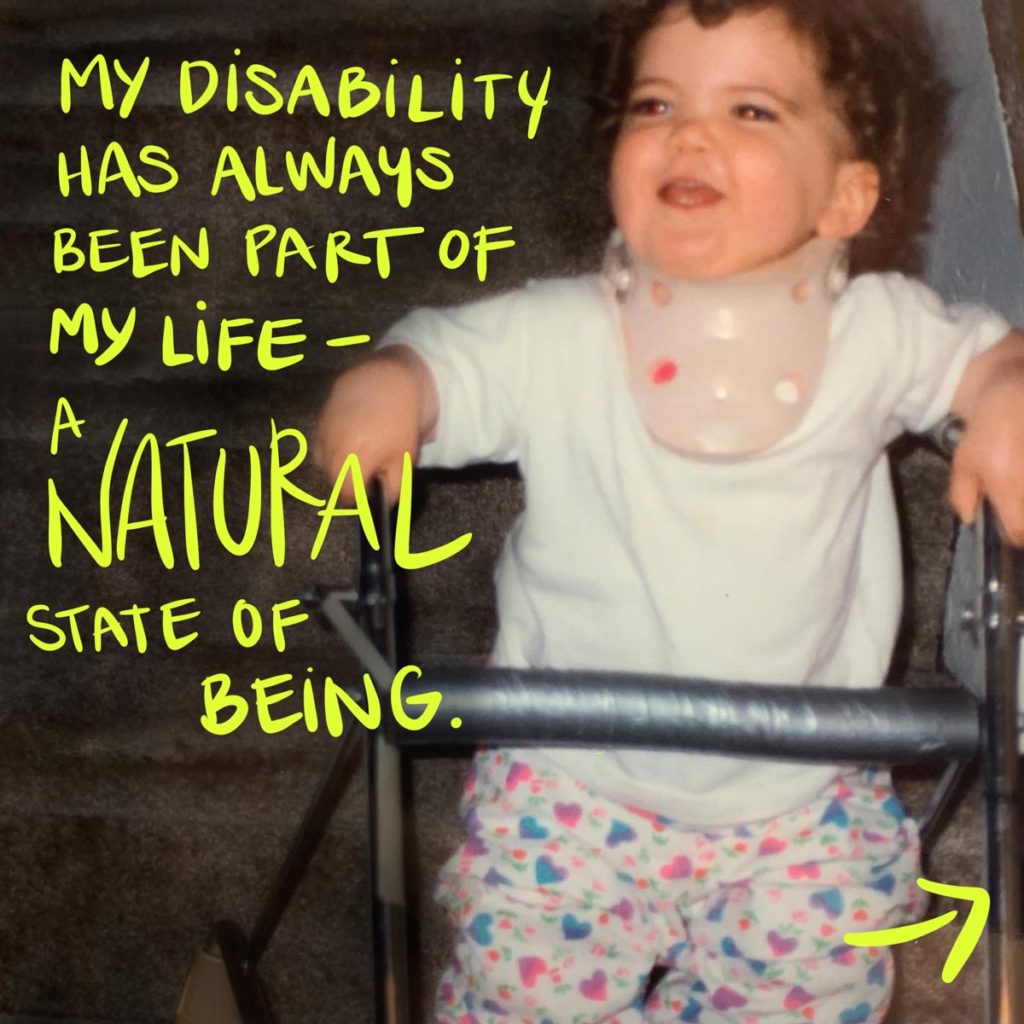 As the only kid with an apparent disability in my elementary school, I learned quickly what it meant to exist in a body that's considered "wrong." I'd often shy away from talking about my disability, and the biggest compliment you could pay me was that you didn't think of me as disabled.
But at age 10, I found myself heading in the complete opposite direction, beginning to embrace myself and opening up about my experience as a disabled person in a very public way: by appearing on "Sesame Street." Hanging out with Big Bird, Elmo, and Oscar the Grouch was a whole lot of fun, but the best part was beginning to find my voice as an advocate. The experience of educating about disability on a national platform showed me the power of storytelling and communicating as a way to break down stigma and debunk stereotypes.
Though I'd planned to become a high school English teacher, the sparks of disability advocacy that started when I was young began to turn into flames. Midway through college, my plans began to shift as I realized that I wanted to pursue advocacy as a career. So, a week after graduation, I went to Washington, DC, to complete an internship program led by the American Association of People with Disabilities. But I gained so much more than work experience. I gained an understanding of disability as an identity and a sense of belonging to something so much bigger than just me. In finding the disability community, I began to find myself.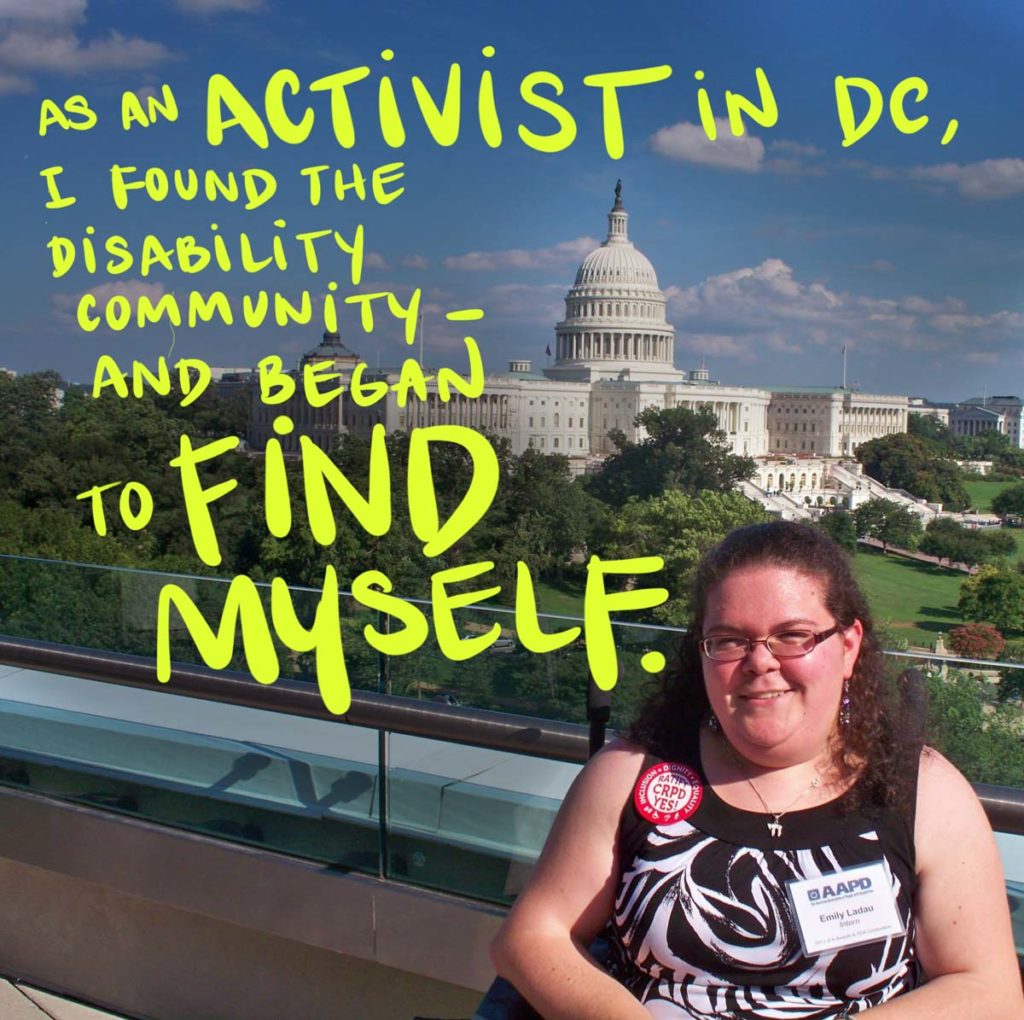 As my passion for activism grew, so too did my realization that if we want the world to be accessible to the disability community, we must make disability accessible to the world. That's not to say I believe disabled people exist simply to be teachable moments, but rather that I believe in meeting people where they're at in a world where disability remains so unfamiliar to so many.
But the disability experience isn't just my story, or my mom's story, or any one person's story. It's the story of one billion people around the world. And for so many of us, our stories are steeped in ableism, in a lack of acceptance of who we are. My hope is that my new book Demystifying Disability: What to Know, What to Say, and How to Be an Ally, will help to shift the paradigm to a more inclusive world.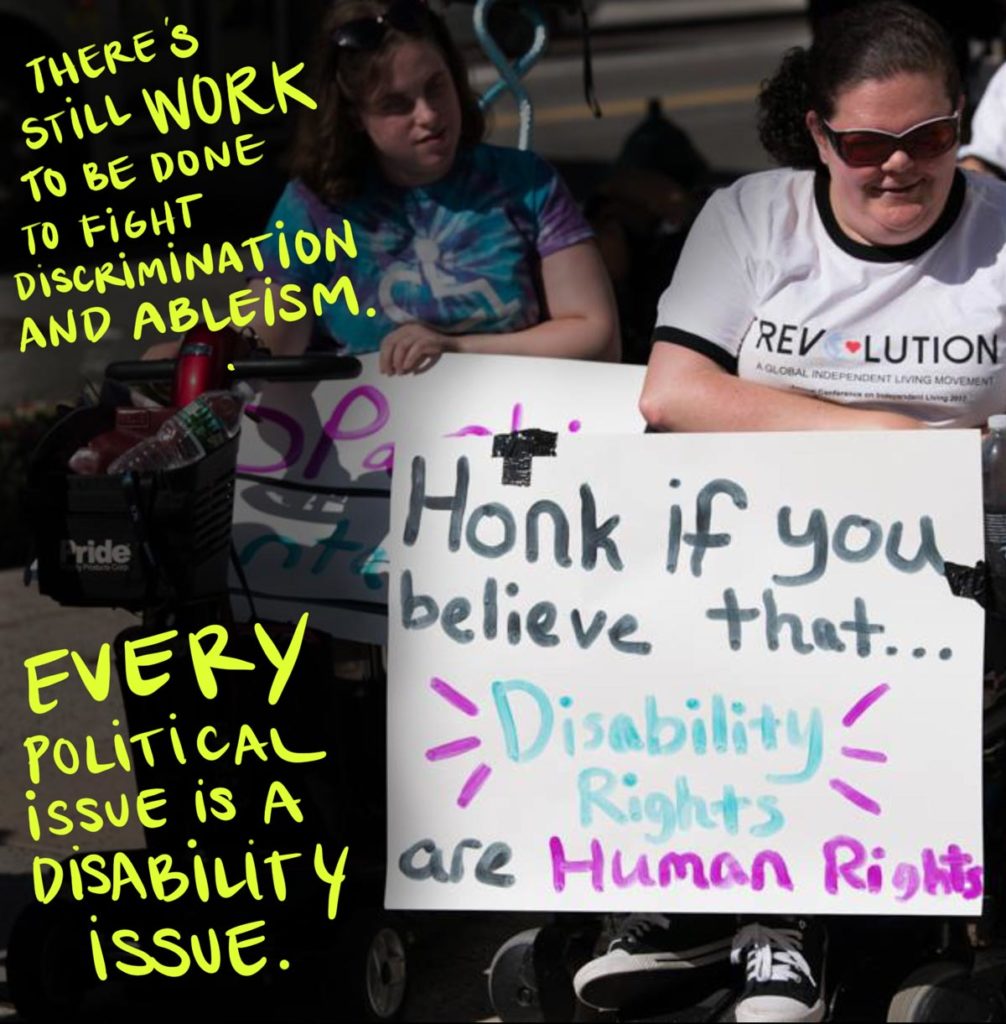 To do this, we first need to understand and recognize ableism and how it manifests in the world.
SO WHAT IS ABLEISM?
Ableism is discrimination and prejudice against people with disabilities, though that's not quite enough to convey its full weight. So here's the definition I use. "Ableism is attitudes, actions, and circumstances that devalue people because they are disabled or perceived as having a disability."
To most of society, ableist beliefs and behavior don't raise any red flags because they're woven into the fabric of everyday life, simply accepted as the norm. For disabled people, though, ableism is always there—a part of our lives that never disappears, manifesting in endless forms ranging from broad, systemic discrimination to individual interactions.
HIDDEN DISCRIMINATION EVERYWHERE
Here's an example. Less than 25 percent of New York City subway stations have elevators. This qualifies as systemic ableism, because the lack of accessibility limits the freedom of disabled people to get around. I do occasionally brave the subway, but it's not uncommon for me to be the only wheelchair user on the platform. Strangers will express surprise, making individual ableist comments such as, "Wow, it's amazing how you get around in that chair." Of course, if every subway station had an elevator, it wouldn't be considered anything special to see wheelchair users on the train. But many people operate on the assumption that disabled people don't have full lives that might require public transportation. And if this assumption weren't embedded in society's thinking, making sure every subway station has an elevator would be more of a priority. See what I mean? Ableist assumptions lead to systemic ableism, which lead to further discrimination.
Think about it. There are still laws on the books that explicitly discriminate against disabled people. The nearly century-old Fair Labor Standards Act was created to be supposedly "fair" for everyone, but people with disabilities are the only population, as named in the law, who can legally be paid far less than the minimum wage. Even worse, this happens in segregated work environments known as "sheltered workshops" where disabled people are paid a few cents per hour to do repetitive tasks—the same tasks that nondisabled people would be paid at least minimum wage to complete in a regular workplace.
Advocates in favor of sheltered workshops and subminimum wages argue that such things are necessary because the disabled people who work in these conditions would otherwise have no job prospects. Organizations that run sheltered workshops (like Goodwill—sorry, thrifters) think they're doing a good deed while getting a good deal on labor. But pennies for piecework isn't acceptable just because the workers are disabled. It's ableist. Instead of having such low expectations for disabled people, what if we finally left the past behind and demanded fair pay and inclusive workplaces for all?
THE WORLD I WANT
Fighting back against ableism in its many iterations feels like playing a never-ending game of whack-a-mole. Most of the time it's nondisabled people who take issue with my anti-ableism advocacy. If I speak up about a place that I can't get into because I use a wheelchair, I'm called a complainer. If I mention that a line in a play I've just seen was, in my opinion, ableist, I'm told I'm overthinking things. If I think that a news story about a disabled person overcoming an obstacle is condescending and then comment on it, I'm accused of being bitter and coldhearted. But it's not bitterness that drives me; it's my passion to move toward a more accepting, loving, equitable world.
If you're just starting the journey of figuring out accessibility, there will be a learning curve. After all, accessibility can take many different forms—handrails to hold on to in a bathroom; transcripts for a video or podcast; a website that can be navigated with software that reads text on the screen; using plain, clear language in a document. But I promise it's not that complicated. A good first step is to do some research: Two of my go-to resources for finding answers are the ADA National Network and the Job Accommodation Network (JAN).
If you've been ableist, I don't want you to feel dismissed for that out of hand. I agree with filmmaker, consultant, and streamer Dominick Evans, who tweeted about ableism: "It's embedded in our culture, and I had to learn to be better, so how can I expect nondisabled people to know how to be better? What gets me is when people learn the harm they've caused, and double down about it."
I believe that you can do better. We all can.
---
Emily Ladau is a disability rights activist, writer, and speaker. She is the editor in chief of Rooted in Rights and co host of "The Accessible Stall" podcast and her writing has appeared in The New York Times and HuffPost. A founding member of The Meteor collective, her new book, Demystifying Disability: What to Know, What to Say, and How to Be an Ally, is out now.
Excerpt from DEMYSTIFYING DISABILITY: What to Know, What to Say, and How to Be an Ally.
Copyright © 2021 by Emily Ladau.
Published by Ten Speed Press, an imprint of Penguin Random House.
Illustrations by Bianca Alvarez