Do NOT Ignore These Midterm Races
Plus: What Brittney Griner's up against now ‌ ‌ ‌ ‌ ‌ ‌ ‌ ‌ ‌ ‌ ‌ ‌ ‌ ‌ ‌ ‌ ‌ ‌ ‌ ‌ ‌ ‌ ‌ ‌ ‌ ‌ ‌ ‌ ‌ ‌ ‌ ‌ ‌ ‌ ‌ ‌ ‌ ‌ ‌ ‌ ‌ ‌ ‌ ‌ ‌ ‌ ‌ ‌ ‌ ‌ ‌ ‌ ‌ ‌ ‌ ‌ ‌ ‌ ‌ ‌ ‌ ‌ ‌ ‌ ‌ ‌ ‌ ‌ ‌ ‌ ‌ ‌ ‌ ‌ ‌ ‌ ‌ ‌ ‌ ‌ ‌ ‌ ‌ ‌ ‌ ‌ ‌ ‌ ‌ ‌ ‌ ‌ ‌ ‌ ‌ ‌ ‌ ‌ ‌ ‌ ‌ ‌ ‌ ‌ ‌ ‌ ‌ ‌ ‌ ‌ ‌ ‌ ‌ ‌ ‌ ‌ ‌ ‌ ‌ ‌ ‌ ‌ ‌ ‌ ‌ ‌ ‌ ‌ ‌ ‌ ‌ ‌ ‌ ‌ ‌ ‌ ‌ ‌ ‌ ‌ ‌ ‌ ‌ ‌ ‌ ‌ ‌ ‌ ‌ ‌ ‌ ‌ ‌ ‌ ‌ ‌ ‌ ‌ ‌ ‌ ‌ ‌ ‌ ‌ ‌ ‌ ‌ ‌ ‌ ‌ ‌ ‌ ‌ ‌ ‌ ‌ ‌ ‌ ‌ ‌ ‌ ‌ ‌ ‌ ‌ ‌ ‌ ‌ ‌ ‌ ‌ ‌ ‌ ‌ ‌ ‌ ‌ ‌ ‌ ‌ ‌ ‌ ‌ ‌ ‌ ‌ ‌ ‌ ‌ ‌ ‌ ‌ ‌ ‌ ‌ ‌ ‌ ‌ ‌ ‌ ‌ ‌ ‌ ‌ ‌ ‌ ‌ ‌ ‌ ‌ ‌ ‌ ‌ ‌ ‌ ‌ ‌ ‌ ‌ ‌ ‌ ‌ ‌ ‌ ‌ ‌ ‌ ‌ ‌ ‌
Greetings, Meteor readers,
This weekend I sojourned into the forests of upstate New York to be one with the leaves and listen to Midnights on an endless loop. And while that was great, it was also a bit alarming to drive past confederate flags, enormous signs that read "Fuck Biden," and—for the local flavor—a few disparaging posters about Governor Kathy Hochul.
This feels like the perfect time to remind all our New York readers that Hochul and her opponent Lee Zeldin are on the ballot this November 8. And Zeldin is an anti-abortion Trump supporter who is now surging in the polls. This is not the time to assume blue states will stay blue no matter what.
As far as the national landscape goes: In today's newsletter we've got a refresher on the midterm races we have our eye on, the candidates who say they will fight for bodily autonomy—and of course, the news.
Shannon Melero
No justice for BG: WNBA star Brittney Griner, who was detained in Russia in February after officials found cannabis oil cartridges in her luggage, has lost her appeal and will officially be serving a nine-year sentence in a Russian penal colony. Griner's 250-day detention in Russia was officially recognized as a wrongful detention by the U.S. government in May, and the Biden administration tried for a prisoner swap in July, offering up Russian arms trafficker Viktor Bout in exchange for Griner and fellow American detainee Paul Whelan. But the attempt came to naught when the Russians chose to counteroffer instead of following through on the swap. Unless the U.S. finds another way to intervene, it is very likely that Griner will remain in Russia until the end of her sentence.
BRITTNEY GRINER APPEARS IN COURT DURING HER TRIAL IN JULY. (IMAGE FOR THE WASHINGTON POST VIA GETTY IMAGES)
Eyes on the prize: Election Day is two weeks from today, and state races have never been so crucial. What happens this November will lay the groundwork for months, even years to come—partly because the state legislators and attorneys general who are elected this fall will be the ones ruling on the outcome of the presidential race in 2024. And if the Republicans have their way, the "red tsunami" could reawaken the Ghost of Orange Presidents Past—and that is NOT the spooky season I signed up for.
For the next two weeks, we're going to pull out a few key races we have our eye on:
Georgia – There are several heated races in the peach state. As you probably know, Reverend Raphael Warnock is locked in a tight race defending his U.S. Senate seat against Trump-backed Herschel Walker, who recently had to shift his tune on abortion rights when a woman claimed she was paid by Walker to terminate her pregnancy. But as you might not know, there are also four proposals for changes to the state's constitution on the ballot; voters can read up on them here. One proposal could change how property owners are taxed after their properties are damaged or destroyed by a natural disaster, a hugely important change considering the extreme weather we've been seeing across the country. And last, but never least, Stacey Abrams is running for Governor against incumbent Brian Kemp. Abrams is a leader in voting rights and she has promised to fight for abortion rights. If elected, she will be the first Black woman governor in American history.
Pennsylvania – TV doctor, Republican, and New Jersey native Mehmet Oz is up against Lieutenant Governor John Fetterman for the state's open U.S. Senate seat. Fetterman is still leading in the polls, but Oz has been rubber-stamped by Trump and Mitch McConnell—which means anything can happen. Let's also not forget that after Fetterman suffered a stroke and was unable to attend an in-person debate, Oz used that as fodder for smear campaigns. What happened to first do no harm?
Nevada – The race between incumbent Democrat Catherine Cortez Masto and Republican challenger Adam Laxalt for U.S. Senate is according to CNBC, "one of the GOP's best chances to flip a blue seat red." Laxalt has been wooing voters with a "tough on crime" platform backed by local police groups, while simultaneously attacking the FBI on behalf of Donald Trump. Like too many other high-profile GOP candidates, Laxalt has also been regurgitating the far-right's claims about voter fraud in 2020. Meanwhile, Cortez Masto has worked to draw attention to the crisis of missing Indigenous women.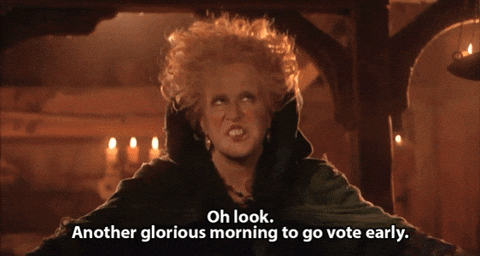 Please share this newsletter with anyone who needs to be reminded that elections are coming. 
You are receiving this email because you have subscribed to our newsletter.