Because of Anita: Highlights from our hosts
In 1991, Professor Anita Hill told the Senate Judiciary Committee that her former boss, Supreme Court nominee Clarence Thomas, had sexually harassed her. Thirty years later, you can still see the ripple effects of that testimony in our politics—and our lives.
That's why we—hosts Dr. Salamishah Tillet and Cindi Leive—wanted to take a fresh look at the hearings. We've been working on this for months, and our new four-part podcast, Because of Anita, out today, shares what we've learned and what we've heard from politicians, artists, organizers, and scholars who were shaped by the hearings.
In the first episode—did we mention it's out today?—we walk you through what actually happened that October weekend 30 years ago, with help from lawyer Kimberlé Crenshaw, who served on Hill's legal team at the time; journalist Jane Mayer, who helped expose the hearings' flaws; and actor Kerry Washington, who later immersed herself in the hearings for a film role as Anita Hill.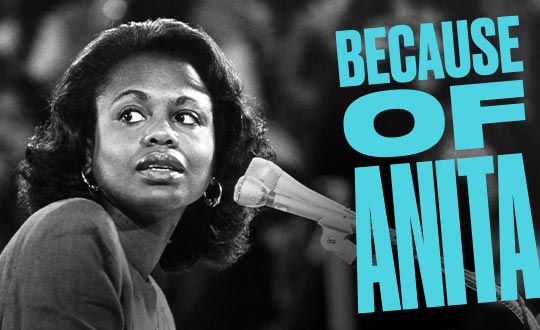 We had different, intersecting reasons for wanting to do this podcast. Salamishah had written about Anita Hill before, for Four Hundred Souls: A Community History of African America, 1619-2019. Revisiting the testimony for that essay—and thinking about the impact it had on her back in 1991, as a Black student in a mostly white high school—was illuminating, and she wanted to share what she'd learned with a different audience. Cindi had known Professor Hill for years—but had never interviewed her, and with the 30th anniversary approaching, couldn't stop thinking about how far away and yet immediate those 1991 hearings were.
Part of what we both loved about this first episode is the deep dive into what actually happened at the hearings. It's kind of shocking to listen to in retrospect: the interrogation of Professor Hill's motives ("are you a scorned woman?" asked one Senator, almost mockingly), the witnesses not called, the spectacle of an all-white, all-male panel ruling on the word of a Black woman. If you're new to the hearings, we think you'll be riveted.
And our guests gave us so much to think about. Here are some of our highlights from the conversations in the first episode:
Salamishah: "For me, it's Kimberlé Crenshaw using Thomas's 'high-tech lynching' line to show the consequence of our country not using an intersectional analysis…or paying attention to how racism and sexism mutually harm Black women and Black communities."
Cindi: "Professor Crenshaw's interview had me on the edge of my seat. She was part of Anita Hill's legal team, and there's a scene where she and her colleagues walk out of the hearing and run into a group of Black women kneeling and praying on the steps of the Capitol. Crenshaw thinks they must be there to support Anita Hill, but then she realizes that they are there for Thomas. She understands the tide has turned, and it's a pivotal moment in her life. I had chills when we were recording this."
Salamishah: "Back then, for lots of Black people racism trumped sexism. Thanks to Hill, and so many other Black feminists, we have a more complex understanding of our oppression, and our resistance to it, today. Another moment that stuck with me is when Jane Mayer notes that the research she and co-author Jill Abramson did for their book Strange Justice: The Selling of Clarence Thomas revealed that there was a high probability that Thomas lied under oath. But as Mayer went on to tell us, 'There are no statute of limitations for investigating a Supreme Court Justice. And I think that this subject still should be opened up and looked at again.'"
Cindi: "When she said that, I asked her jokingly, 'Jane, I wonder who would be the journalist to do that investigation?' But she demurred and said she'd leave that for a new generation. And given Thomas's importance on the Court, I hope that happens."
We hope you'll subscribe so you don't miss an episode, including a personal conversation between Professor Hill herself and Dr. Christine Blasey Ford, whose 2018 testimony before the Senate Judiciary Committee echoed Hill's experience 27 years earlier.
Upcoming guests also include scholar Dr. Barbara Ransby, Ambassador Carol Moseley Braun, producer Drew Dixon, legal advocate Fatima Goss Graves, journalist Irin Carmon, and 'me too.' founder Tarana Burke.
Because of Anita is co-hosted by Dr. Salamishah Tillet, cultural critic at The New York Times, and Cindi Leive, co-founder of The Meteor; and it's produced by The Meteor and Pineapple Street Studios. Listen and subscribe now on Audible, Apple Podcasts, Spotify, Stitcher, or wherever you get your podcasts.