Because of Anita: A podcast about the testimony that changed everything
Thirty years ago this fall, in October 1991, Professor Anita Hill delivered groundbreaking testimony in the Supreme Court confirmation hearings of Clarence Thomas. As the world watched, she sat in front of an all-white, all-male Senate Judiciary Committee and testified that Thomas had sexually harassed her years earlier, when he was her boss.
The hearings ignited conversations around race, gender, power, and sexual abuse that are as relevant today as they were three decades ago. Now, Because of Anita, an exclusive four-part podcast series, examines the legacy of Professor Hill's testimony—and both what's changed and what has not in the years since then. Co-hosts Dr. Salamishah Tillet, cultural critic at The New York Times, and Cindi Leive, co-founder of The Meteor, sit down with politicians, artists, organizers, and academics—all of whom have been shaped by the hearings, including:
Professor Anita Hill, in conversation with Dr. Christine Blasey Ford, who testified in the 2018 confirmation hearings of Supreme Court nominee Brett Kavanaugh
Key players during the 1991 hearings—and their aftermath, like lawyer and Professor Kimberlé Crenshaw, a member of Hill's legal team; journalist Jane Mayer, who co-wrote a book about the confirmation; and scholar Dr. Barbara Ransby, who rallied Black women in a historic show of support
Those who felt the ripple effects of Professor Hill's experience, including Ambassador Carol Moseley Braun, producer Drew Dixon, and actor Kerry Washington

Leaders in the work on these issues today, including legal advocate Fatima Goss Graves, journalist Irin Carmon, and 'me too.' founder Tarana Burke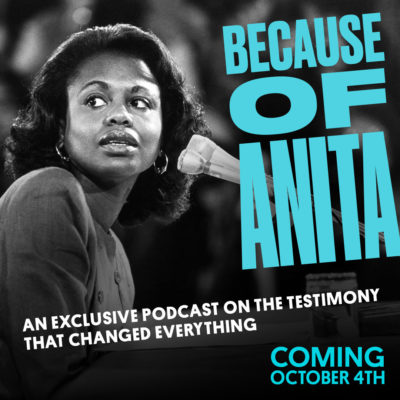 Because of Anita is produced by The Meteor and Pineapple Street Studios. Making it has been a powerful, illuminating experience for us—we're excited to share it with you. Sign up now to hear every episode when it airs.
Listen now and subscribe on Apple Podcasts, Spotify, Audible, Stitcher, or wherever you get your podcasts.
Photo credit: Bettmann / Getty Images