Voices From Inside Iran's Freedom Movement
Mahsa Amini's death was only the beginning
By Gelareh Kiazand
Today marks exactly a year since the death of Mahsa "Jina" Amini, a young Kurdish woman who had been detained by what's known in Iran as the Morality Police for "improperly" wearing her hijab, and who went into a coma while in custody and died shortly after. Despite the government's attempts to cover up the circumstances of Amini's arrest, pictures of her in the hospital and the eventual news of her death sparked massive protests and set the Woman, Life, Freedom movement in motion, the scale of which took many by surprise. Tens of thousands of people spilled into the streets in around 100 cities, in an explosion of suppressed pain over years of censorship, patriarchy and government coverups. 
The government harshly retaliated: It's estimated that in the first six months of the protests, more than 500 police and protesters were killed, 20,000 people arrested—and at least six executed. Internet access was disrupted in an attempt to suppress the protests.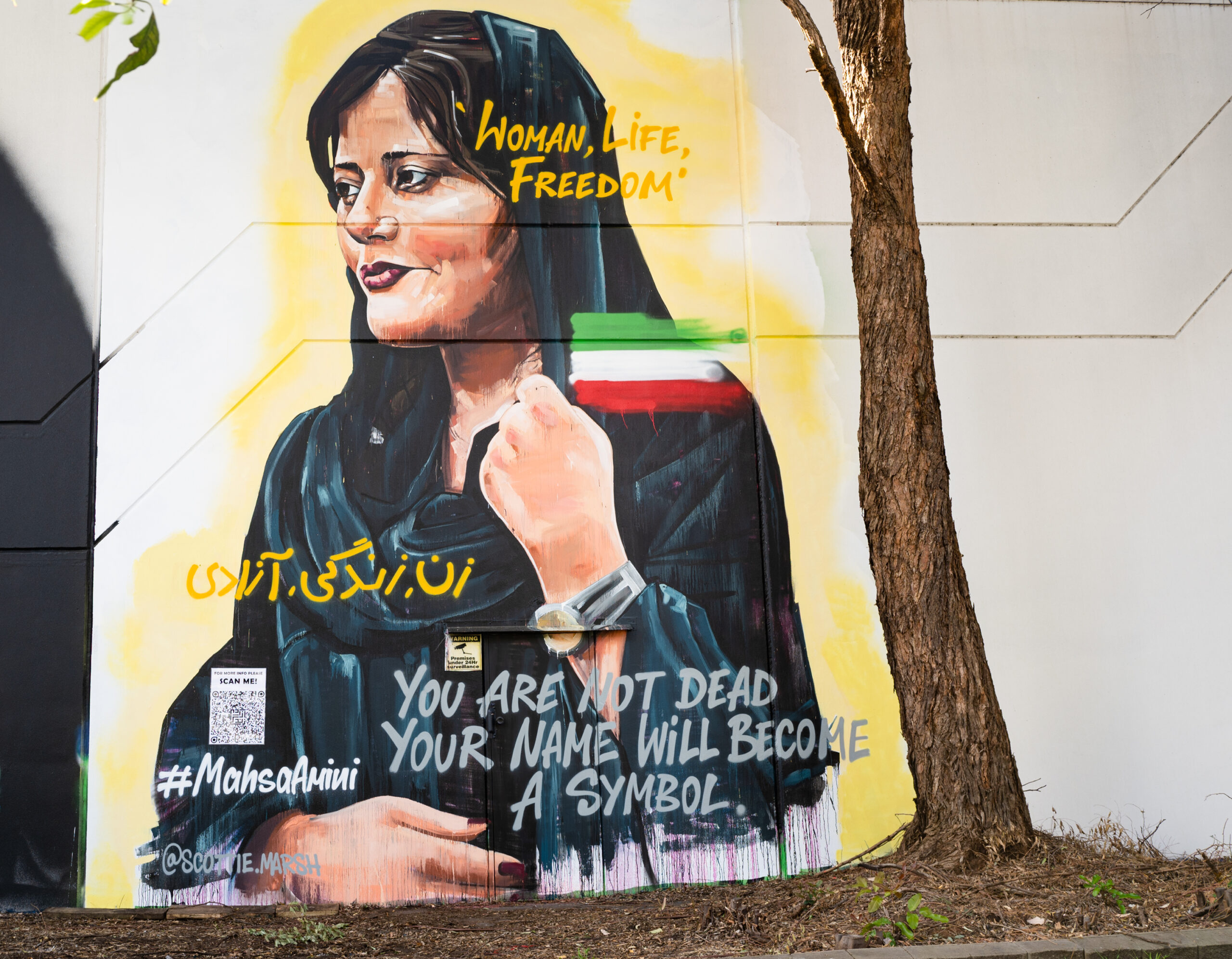 The brutality and murders did scare some people off the streets. By January, many acts of defiance had migrated to social media, where high school girls were dancing, removing their headcovers, and pulling down the pictures of government officials, including the supreme leader Ayatollah Khamenei. Soon, people began reporting cases of school poisonings that ultimately affected more than 1,000 girls, most suffering from breathing problems. Even though the government arrested those who carried out the so-called "nitrogen" gas poisonings, many parents suspect authorities were involved, or at the very least looked the other way.
In April, the streets of Tehran were again filled—this time with women not wearing any form of hijab, in violation of national law. The government started issuing economic fines to celebrities, business, and ordinary citizens. Small cafes with customers who refused to cover became prime targets of police harassment and closures. Around 150 businesses were shut down.
As the anniversary of the protests approached this summer, authorities are still arresting, intimidating, and threatening protesters and their families. Niloufar Hamedi and Elahe Mohammadi, the two women journalists who first reported on Amini's death, are still under arrest and awaiting trial with charges of espionage. Seventeen more journalists remain detained.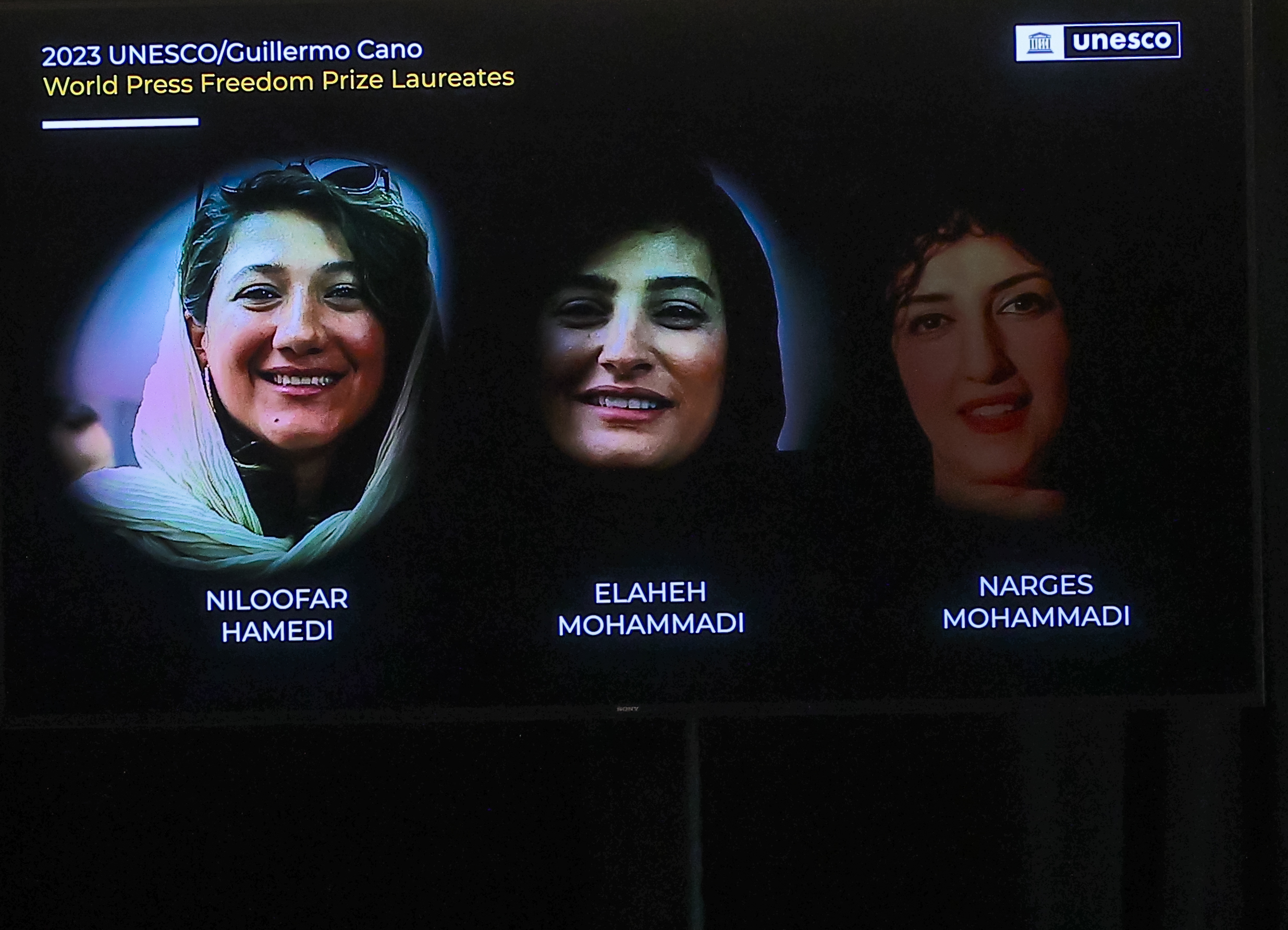 Whatever comes next may make history. The government has taken no steps to address the movement's cries of injustice, and President Ebrahim Raisi, who won in a highly engineered election with the lowest turnout on record, hasn't improved Iran's struggling economy. But voices seeking to topple the regime, both on the ground and online, have only grown louder.
Women have always been a political force in Iran. We spoke with several of these women (and one man), all of whom have been profoundly affected by the past year's uprising. All of them have been given pseudonyms to protect their identities.
Pardis, 24, runs her family's small cafe in Tehran. During the peak of the uprising, she sheltered injured and runaway protesters. The authorities ordered her to refuse the protesters or be arrested. She chose the latter, and was taken to prison for 24 days.
"If anyone can change this situation, it is the people of Iran. Look, I was not a political person at all; I was thinking about parties and boys and these things. I went to prison because of my beliefs—it's ridiculous to be afraid now. They are forcing us to show a reaction to the killing of Mahsa Amini, which was not even justified. Why should teenagers be killed? I was living my life, but after these events, how can we remain silent? [The movement] has changed everything, in my opinion. Even the most distant people, the most religious people, whether they like it or not, are affected by this revolution."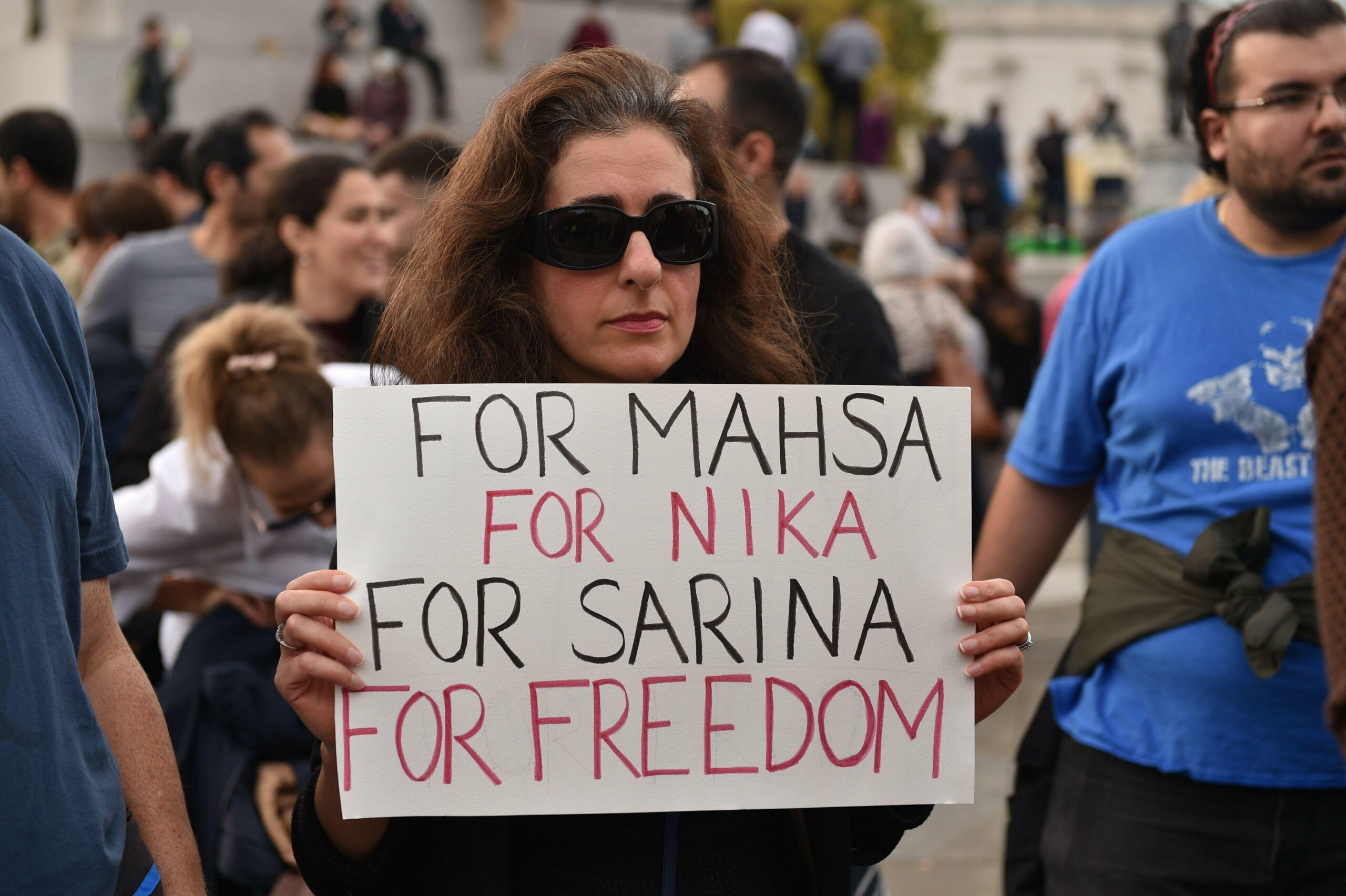 Ameneh is a 28-year-old woman from Zahedan, Baluchistan, a conservative and underserved province that was one of the country's most active areas during the uprising. Her family prohibited her from continuing her studies at a young age, and never let her venture far from her home city. The uprising was the first time her family allowed her true independence.
"Here, the conditions are again like those first weeks. The city is very controlled. People's phones are checked. They are very sensitive to the anniversary and scare the people so they don't come out. People have no right to participate in the rally and the mosque.
"From the first day, [prominent Sunni spiritual leader] Molavi Abdul Hamid criticized the killing of Mahsa Amini. The people of Zahedan are very fond of Molavi and they also supported him. [As a result] Friday prayers were and still are strictly controlled, and they even put checkpoints in the city a day or two before. My brother was arrested by intelligence forces in mid-November [for being] a member of mosque security and the liaison to deliver medicine to the injured people of Zahedan's Bloody Friday. Later they attacked our house many times and searched and took all my brother's belongings. At that time, one of our acquaintances said that these drugs should be brought from Tehran, but it was very risky. Finally, I decided to go to Tehran and bring these medicines.
"[Growing up] I really wanted to study or dress the way I like, but it was impossible. At that time, when I said I wanted to do this, I was alone, there was no one to support me, there was no other girl like me. But now I don't feel alone anymore and I have more courage. I see this change in both women and men."
Soha is a 17-year-old student who is religious and attended the protests with a headscarf. For her, the movement was about standing for the freedom of women, who should not be defined by hijab. Her mother, Mitra, 54, who also is religious, joined her in the protests.
Soha: "I have never been insulted by people who don't believe in hijab. But I have seen many times that girls who don't wear a headscarf are insulted or made to feel insecure by the morality police or by women who are hired by the Islamic Republic to intervene in the issue of hijab." 
Mitra: "As a Muslim woman, I cannot allow them to kill people under the pretext of my religious beliefs. In my opinion, the Islamic Republic is not only not Muslim, but [also] fueling anti-Islamism. In the religion of Islam, it is not said to keep people hungry and to keep the hijab. Islam does not say kill or imprison anyone who disagrees with you. Hijab is important in Islam, but not as important as a person's life. Was there a problem with [Amini's] hijab from the point of view of Islam?"
Soha: "The new wave of the movement will start soon, and in my opinion, religious people will play a big role in this new wave."
Mehdi, 19, is a student in Tehran. At the rallies, he witnessed his friend getting shot, and he himself was beaten by the security forces. He and his friends believe the forced ruling of "old men" needs to end.
"In 2009, I was very young, but I understood that people were protesting and I saw that they were being suppressed. At that time, my family was not against the Islamic Republic and my father even worked in the Revolutionary Guards, but he had seen things up close that had an impact on him, and since then, his perspective changed. So he resigned from his job. Many people who thought that the Islamic Republic had no problems realized that they were on the side of corruption. People see that this government is only lying to them and this is no longer acceptable to many. My father always said that if anyone can oppose the [clerics in the Islamic republic], it is women.
"People want stability. They want a good economic situation. A few nights ago, one of my friends told me to go to the embassy for immigration. I said that the future is here; we just have to build it."
Rana, 35, is a teacher from Kurdistan, the province where Amini is from. Kurdistan, like Baluchestan, faced some of the harshest crackdowns. Doctors were working secretly in people's basements to help the wounded. Many homes were open to neighbors so the community would not be weakened. 
"In Kurdistan, I feel the meaning of women is different than in the rest of the country. They are raised as fighters, live as fighters, and die as fighters. Because we as Kurds have always fought for our ethnicity, this seems to have been born within the women. The slogan "Woman, Life, Freedom" [signifies] a freedom of humanity which shouldn't be defined by what is worn or not worn. It is the freedom…of choosing who I am, bearing its responsibilities, and shaping my life through that. I feel the women of Iran are finally starting to understand what freedom can hold."
---
Gelareh Kiazand is a Canadian-Iranian based between NYC and Toronto who has worked in Iran's film and documentary industry for 12 years as well as covering stories in Afghanistan and Turkey. In 2016, she became Iran's first female DoP for a fiction feature film, post-'79 revolution.