The supposed "death of #MeToo"
What the Depp/Heard verdict means for future cases ‌ ‌ ‌ ‌ ‌ ‌ ‌ ‌ ‌ ‌ ‌ ‌ ‌ ‌ ‌ ‌ ‌ ‌ ‌ ‌ ‌ ‌ ‌ ‌ ‌ ‌ ‌ ‌ ‌ ‌ ‌ ‌ ‌ ‌ ‌ ‌ ‌ ‌ ‌ ‌ ‌ ‌ ‌ ‌ ‌ ‌ ‌ ‌ ‌ ‌ ‌ ‌ ‌ ‌ ‌ ‌ ‌ ‌ ‌ ‌ ‌ ‌ ‌ ‌ ‌ ‌ ‌ ‌ ‌ ‌ ‌ ‌ ‌ ‌ ‌ ‌ ‌ ‌ ‌ ‌ ‌ ‌ ‌ ‌ ‌ ‌ ‌ ‌ ‌ ‌ ‌ ‌ ‌ ‌ ‌ ‌ ‌ ‌ ‌ ‌ ‌ ‌ ‌ ‌ ‌ ‌ ‌ ‌ ‌ ‌ ‌ ‌ ‌ ‌ ‌ ‌ ‌ ‌ ‌ ‌ ‌ ‌ ‌ ‌ ‌ ‌ ‌ ‌ ‌ ‌ ‌ ‌ ‌ ‌ ‌ ‌ ‌ ‌ ‌ ‌ ‌ ‌ ‌ ‌ ‌ ‌ ‌ ‌ ‌ ‌ ‌ ‌ ‌ ‌ ‌ ‌ ‌ ‌ ‌ ‌ ‌ ‌ ‌ ‌ ‌ ‌ ‌ ‌ ‌ ‌ ‌ ‌ ‌ ‌ ‌ ‌ ‌ ‌ ‌ ‌ ‌ ‌ ‌ ‌ ‌ ‌ ‌ ‌ ‌ ‌ ‌ ‌ ‌ ‌ ‌ ‌ ‌ ‌ ‌ ‌ ‌ ‌ ‌ ‌ ‌ ‌ ‌ ‌ ‌ ‌ ‌ ‌ ‌ ‌ ‌ ‌ ‌ ‌ ‌ ‌ ‌ ‌ ‌ ‌ ‌ ‌ ‌ ‌ ‌ ‌ ‌ ‌ ‌ ‌ ‌ ‌ ‌ ‌ ‌ ‌ ‌ ‌ ‌ ‌ ‌ ‌ ‌ ‌ ‌ ‌
Dear Meteor readers,
Like me, you've probably been completely fixated on Lori Harvey and Michael B. Jordan breaking up. (Oh, no? Just me?) They were just so beautiful!
The fan reactions have been WILD (short version, since it's clear you haven't been following: Harvey chose herself), but fundamentally, the whole thing is none of my business, and neither is the fact that Feminist Icon Keanu Reeves was seen holding hands with his girlfriend this week, which feels like a satisfying incident of gender justice.
At any rate, celebrity stories are meant to be an escape from political life as we know it, which is yet another reason the Johnny Depp/Amber Heard trial was such a bummer. It inspired an orgy of hate against Heard, and in this issue, Meteor editor-at-large Rebecca Carroll sat down with Pulitzer Prize-winning journalist, scholar, and activist Salamishah Tillet to understand what it all meant—for the legal system and for survivors.
But, first, the news.
🥰,
Samhita Mukhopadhyay
"We were betrayed": Justice for the victims of former USA Gymnastics and Michigan State doctor Larry Nassar has been elusive. Over 90 of them are now suing the FBI for mishandling the investigation into Nassar, which resulted in him continuing to abuse young women for months after a first victim had come forward. Listed among the plaintiffs are gold medalists Alexandra Raisman, Simone Biles, and McKayla Maroney; the lawsuit, which calls for a total of about $1 billion in damages, comes after the DOJ failed to prosecute the FBI for the agency's "gross failure" to properly investigate Nassar. I for one cannot wait until this army of extremely athletic women (metaphorically) beats the FBI into such submission that they have to change the name of the J. Edgar Hoover Building to the All the Girls You Couldn't Silence Building.
Tits out for abortion: On Tuesday night the WNBA's New York Liberty absolutely shellacked the Minnesota Lynx in Brooklyn. But not before a group of topless women stormed the court (which is very dangerous to players and officials btw!) to advocate for abortion rights. Some of the protestors, who were apparently with Rise Up 4 Abortion Rights, ran on the court topless, while more unfurled a large green banner that read, "Overturn Roe? Hell no!" The on-court protestors were removed by security and in response, the organization tweeted, in part, "We are calling on those who can stop the overturning of #RoeVWade: THE MILLIONS of ppl who support #abortionrights. YOU! No business as usual. Shut the country down!" And while we're at it, don't forget you can do your part by donating to local abortion funds.
AND: 
Protestors in Dallas, Texas came out in full force to a *checks notes* family-friendly drag Sunday brunch to yell at parents and children trying to enjoy a show that featured Kidz Bop hits. The protestors instead suggested that the children should be in church, which is the same place that serves kids wine and calls it the blood of Christ. Sounds like drag in liquid form if you ask me.

Did you know that only 4% of healthcare research and development in the United States goes towards women's health even now in the year of our lord 2022? You can be a part of changing that just in time for Equal Research Day on June 10th!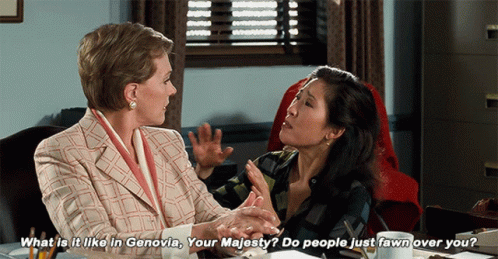 But the justice system is on life support. 
THE INCOMPARABLE DR. SALAMISHAH TILLET (PHOTO BY EMMA MCINTYRE VIA GETTY IMAGES) 
The Johnny Depp v. Amber Heard trial was in turn high camp, a searing commentary on celebrity culture, and a fairly excruciating thing to watch if you have any personal experience of sexual assault. I wanted to talk it—and the verdict—through with someone to make sense of it all. So I sat down with Pulitzer Prize-winning journalist, scholar, activist, and survivor Dr. Salamishah Tillet, whose organization A Long Walk Home empowers people to end violence against girls and women.
Rebecca: It has been almost a week since the Johnny Depp/Amber Heard trial ended. You said you did follow it. In what way did it feel like news to you?
Salamishah: Well, there are three parts. There was the actual trial itself, and the ways in which Amber [Heard's] op-ed was under such scrutiny for defamation—that's an unusual response to what we think of as a #MeToo allegation, to have a high-profile person like Johnny Depp using the court system to defend himself from accusations of violence. And then there was the intense fan frenzy in which people traveled great distances to just sit outside the courtroom to catch a glimpse of Depp. And finally the online aspects—a lot of real vitriolic attacks against Heard. All of that made it newsworthy to me.
Rebecca: I know a lot of women and survivors of sexual assault, myself included, who had moments of feeling triggered or just despondent, hopeless, or enraged while following the trial. How did you feel?
Salamishah: I felt deep compassion for her. But also I think the hardest part was to [witness]  "bro culture" turn into celebrity addiction. It's interesting to see how these people can remain heroes and remain worthy of being idolized. And I think violence against women is not just commonplace, but something that's taken so lightly that you can have thousands of people celebrating Johnny Depp as an actor, and therefore, that means that it was impossible for him to commit any acts of violence against her. I mean, that's the part that's disheartening, right? As if we needed any other mechanism for silencing people, we have a high-profile case showing how effective this process may be to sue someone for defamation if they've accused you of gender-based violence.
EVEN THE DOG DOESN'T UNDERSTAND WHY THESE PEOPLE ARE WASTING THEIR TIME WHEN JOHNNY DEPP WASN'T EVEN AT THE VERDICT READING (PHOTO BY KENT NISHIMURA VIA GETTY IMAGES)
Rebecca: I'm curious what you think about the inordinate amount of disdain for [Amber Heard].
Salamishah: Amber Heard was alone essentially. Depp had a support system created by his wealth, his celebrity, his gender, and race that she just didn't have. It proves again that you actually need an arsenal to counter men in power. It was a complicated case, yes, but it was a very lonely place for her to exist in. There was no support compared to what Johnny Depp had.
Rebecca: I want to go back to what you were saying about the legal implications of this defamation win.   As someone who is a lifelong activist in this space as well as a survivor, what do you think it means?
Salamishah: I'm working on this big project called In Lieu of the Law: #MeToo and the Politics of Justice. And I bring that up because [as a result of #MeToo and other movements], we may have these personal disclosures, and this really private healing, but we still don't have any legal justice. I went to the assistant district attorney in Philadelphia [where my assault took place], but at the time, in 1992, physical coercion had to accompany a sexual assault. My sexual assault didn't fit under the legal definition of rape. It does now because people have advocated to change those laws. But at the time, no means no, wasn't enough. The person had to threaten your life, and also sexually assault you. And even though the laws are more expansive now, and the cultural attitudes may have shifted, we're still butting up against legal systems and legal parameters that make it easier for people to get away with violence against women. And that's essentially what we saw here too.
Because I was sexually assaulted in college and because I'm a college professor, I really pay attention to the college movement that preceded the #MeToo global movement. [And during] the college sexual assault reform movement that dominated the first decade of the 2000s, students would come forward with allegations of sexual assault and started suing their universities under Title IX protections. What's fascinating is that now we've seen a really strong backlash from mostly men—mostly white men—who've been accused of sexual assault, suing the university. And, oftentimes [they] either have their records unblemished or been able to receive restitution from the university. To me, that is an indicator of the trend that we're going to also see with these #MeToo cases. It's already been tested in college and university environments.
STUDENTS AT PACE UNIVERSITY DURING A WALKOUT AGAINST SEXUAL ASSAULT ON CAMPUS, 2018 (PHOTO BY DREW ANGERER VIA GETTY IMAGES)
Rebecca: So if we're talking about the way that the #MeToo movement or your organization A Long Walk Home are creating "safe spaces" —there's this real discordance with what is happening in the actual legal system.
Salamishah: There's a really good book—it's called Redefining Rape by Estelle B. Freedman, and she looks at rape reform movements in the suffrage era and the Jim Crow era. And she opens this book with this really obvious but really important idea that the laws around sexual violence or gender-based violence have always protected a particular class of Americans—and that's disproportionately white men. So it's not as if this moment is ahistorical in that sense. We're just seeing more sophisticated ways of challenging accusations of violence against women—the novelty of the [defamation] claim was pretty surprising—but it's part of a larger history.
Rebecca: I was struck by something that [me.too movement founder] Tarana Burke said in her statement after the verdict was announced, in response to media speculation that the #MeToo movement is dead. And she said, "The movement isn't dead, the system is dead…In the meantime, millions of people who have never been able to utter the words, 'It happened to me' have released this shame that wasn't theirs to carry in the first place."
Salamishah: I published my story of multiple sexual assaults in my feminist college newspaper in 1997. And so that was my kind of #MeToo moment, in terms of revealing my story, the trauma that I had experienced, and wrestling with the shame and the self-blame that so many victims have. So I clearly remember. And I'm a writer, so for me to write that publicly was cathartic, and I think a transformative moment for me politically and personally. In that sense, I think #MeToo as a global movement is both an epiphany, Oh, I am a victim of violence, and the public acknowledgment of the trauma. That's what's historic about #MeToo—this global coming together. I think that is pretty remarkable, and still is part of its seismic, shifting legacy.
Rebecca: And so what would you say to young women and girls—survivors—about how we move forward from here, facing a "dead" system?
Salamishah:  It's on us to continue to agitate for reform in terms of legislation, in terms of the criminal justice system, and in terms of the court of public opinion. Otherwise, people will continue to be harmed without any repercussions. And so it's on us for using what Tarana said is a dead system. It's on us to revive it or revolutionize it.  So that's what I think.
Rebecca: Well, all right. God damn.
*A previous version of this post misstated the race of the two men Kyle Rittenhouse killed. It was wrongly stated Rittenhouse killed two Black men; however, it was two white men.  The Meteor regrets this error and has updated the post to reflect accurate information.