We're gonna need it ‌ ‌ ‌ ‌ ‌ ‌ ‌ ‌ ‌ ‌ ‌ ‌ ‌ ‌ ‌ ‌ ‌ ‌ ‌ ‌ ‌ ‌ ‌ ‌ ‌ ‌ ‌ ‌ ‌ ‌ ‌ ‌ ‌ ‌ ‌ ‌ ‌ ‌ ‌ ‌ ‌ ‌ ‌ ‌ ‌ ‌ ‌ ‌ ‌ ‌ ‌ ‌ ‌ ‌ ‌ ‌ ‌ ‌ ‌ ‌ ‌ ‌ ‌ ‌ ‌ ‌ ‌ ‌ ‌ ‌ ‌ ‌ ‌ ‌ ‌ ‌ ‌ ‌ ‌ ‌ ‌ ‌ ‌ ‌ ‌ ‌ ‌ ‌ ‌ ‌ ‌ ‌ ‌ ‌ ‌ ‌ ‌ ‌ ‌ ‌ ‌ ‌ ‌ ‌ ‌ ‌ ‌ ‌ ‌ ‌ ‌ ‌ ‌ ‌ ‌ ‌ ‌ ‌ ‌ ‌ ‌ ‌ ‌ ‌ ‌ ‌ ‌ ‌ ‌ ‌ ‌ ‌ ‌ ‌ ‌ ‌ ‌ ‌ ‌ ‌ ‌ ‌ ‌ ‌ ‌ ‌ ‌ ‌ ‌ ‌ ‌ ‌ ‌ ‌ ‌ ‌ ‌ ‌ ‌ ‌ ‌ ‌ ‌ ‌ ‌ ‌ ‌ ‌ ‌ ‌ ‌ ‌ ‌ ‌ ‌ ‌ ‌ ‌ ‌ ‌ ‌ ‌ ‌ ‌ ‌ ‌ ‌ ‌ ‌ ‌ ‌ ‌ ‌ ‌ ‌ ‌ ‌ ‌ ‌ ‌ ‌ ‌ ‌ ‌ ‌ ‌ ‌ ‌ ‌ ‌ ‌ ‌ ‌ ‌ ‌ ‌ ‌ ‌ ‌ ‌ ‌ ‌ ‌ ‌ ‌ ‌ ‌ ‌ ‌ ‌ ‌ ‌ ‌ ‌ ‌ ‌ ‌ ‌ ‌ ‌ ‌ ‌ ‌ ‌ ‌ ‌ ‌ ‌ ‌ ‌
Dear Meteor readers,
If you care about the world being a just and equitable place, the news has been pretty terrible. And that's probably not going to change anytime soon. So is it possible to be optimistic amidst all this?
This week Meteor editor-at-large Rebecca Carroll talks to writer and former Bitch EIC Evette Dionne about that question—and how to avoid defaulting to despair.
We hope you enjoy this conversation as much as we did.
First, the news. Which…isn't all bad.
xo,
Samhita Mukhopadhyay
"That's where we are": As we shared Wednesday, two weeks ago a 10-year-old girl in Ohio who needed an abortion after being raped had to travel to Indiana for one because the Supreme Court overturned Roe v. Wade just before her appointment. That was a tragedy in and of itself. Somehow, though, conservatives made it worse: First, they suggested the news story about the victimized child wasn't to be believed, with the Wall Street Journal going so far as to suggest it was "too good to confirm." (Unclear what exactly about the rape of a child is "too good.") After a suspect was arrested (a rarity in child rape cases), they issued a tepid correction but never retracted their horrible headline.
Then, Thursday, an official for the National Right to Life Committee said that the child—again, a 10-year-old sexual assault survivor—should have carried that pregnancy to term and come to understand "the benefit of having the child." And, now the virulently anti-choice attorney general of Indiana is considering pursuing criminal charges against the doctor who performed the abortion, suggesting she did not file the appropriate paperwork with the state to report providing an abortion to a person under the age of sexual consent. (The doctor did, in fact, follow appropriate procedures, something it took news outlets less than a day to confirm via open records requests, suggesting the AG didn't even bother to look into what the doctor did before going on television to accuse her of a crime. In a wholly legitimate move, she is now considering suing back.)
In other words, what we learned this week is this: Not even a 10-year-old sexual assault survivor is off limits for forced-childbirth zealots.
Terrifying: Uber is facing a class action lawsuit from 550 women passengers. The suit claims that the ride-share app failed to keep women safe from being "kidnapped, sexually assaulted, sexually battered, raped, falsely imprisoned, stalked, harassed, or otherwise attacked by Uber drivers."
RIP: Donald Trump's first wife Ivana Trump — the one with whom he had his eldest three children, and who he allegedly sexually assaulted, cheated on, and left for Marla Maples—has died.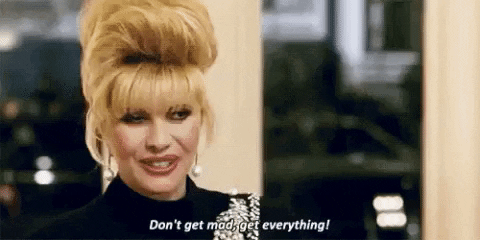 New York Attorney General Letitia James (who, by the way, is a powerhouse) has agreed to temporarily delay depositions for the Trump family members in the state's fraud investigation to allow them time to grieve. (Speaking of which, Donald Trump is definitely running for president again; he's just trying to figure out when he'll announce it.)
AND:
Texas is suing the Biden administration over its executive order protecting doctors who need to terminate a pregnancy in the case of a medical emergency. New state motto: "Texas, where it's OK if pregnant people die!"

A great read from Jill Filipovic on the alternative "facts" created by the forced childbirthers and how many mainstream media institutions have been complicit in spreading them. Please see to it you never say "unborn child" again.

The lovely Sophia Bush announced her wedding to Grant Hughes by sharing how abortion impacted his life.
Rebecca Carroll speaks to author Evette Dionne about how to keep from just giving into despair in These Times.
AUTHOR EVETTE DIONNE, AN ACTUAL RAY OF SUNSHINE (PHOTO BY MEIKA EJIASI VIA EVETTE DIONNE) 
These are some dark days right now. A new wave of COVID just hit, every week there's another mass shooting, transphobia is on the rise, the January 6th committee hearings are illuminating what a hot mess our democracy is, and the Supreme Court just overturned Roe v. Wade. And things are clearly going to get worse: Justice Clarence Thomas said it himself — with his whole-ass, okey-doke chest—that the right to same-sex marriage and access to contraception is next.
I'm trying to live, work, raise my son to thrive, be a good partner, friend, and citizen amid all these reasons to despair, and then some days, I just think, "For what?"
After the Roe reversal, political journalist Rebecca Traister wrote about the necessity of optimism in this moment for The Cut, stating that we must "find the way to hope, not as feel-good anesthetic but as tactical necessity."
Listen: I like hope as much as the next person, but I need an entirely new way of understanding it in order to keep pushing. So I reached out to Evette Dionne — culture writer, former editor-in-chief of Bitch Magazine, and author of Lifting As We Climb: Black Women's Battle for the Ballot Box — for a conversation about reimagining this necessary hope.
Rebecca Carroll: After Roe, you tweeted: "Hopelessness is normal, but hope is all we have today." So—do you have it right now?
Evette Dionne: Having hope for me is just a way of living because, I say all the time, life just gets harder and harder. Our government is trying to strip away all our rights. Climate change is eroding our planet. All that we have is hope that we can organize enough as a people to slow down this onslaught. It's the only way that I feel like I can wake up and not just be in the pits of despair. I need hope to function.
And I think the practicality of that is, if you're able to think about history as this really long arc, there are moments where it gets better, but there are also times where it gets worse—and you have to believe that it's going to swing the other way. Hope is a driving force of that.
So when you say you have to have hope—is it a feeling, is it a tool, is it a muscle? 
I love thinking about it as a muscle because feelings are fleeting: you could feel happy, you could feel sad, you could feel depressed all in a single day. Hope to me is less of a feeling, because you could be in despair and still be hopeful that tomorrow is going to be better.
Hope is one of those things that brings coalitions of people together. But, in terms of who gets to think about hope as this galvanizing force, [those] are typically not our most impoverished folks. You have to have the time, the resources, and the space.
If you're just constantly in survival mode as a mechanism of capitalism, you're just trying to get to your next moment. Do you really have time to hope?  And so hope and joy and pleasure are kind of my central foundational tenets — the things that I try my best to allow my life to rotate around. Our society is designed to extract and extract and extract and not to pour in anything. And so I fiercely guard my time. I fiercely guard my boundaries.
But if hope is a muscle, muscles get tired. How do you deal with that?
Burnout is real, and it's something that has to be taken care of. I always say it's perfectly fine to step away from a movement, away from a constant news cycle, away from anything that is making you weary. Just because you're stepping away from it doesn't mean that you're not still attached to it in some way. When you're ready to tap back in, it will still be there.
It's difficult in this [political] moment, because we don't have leftist leadership in real positions of power who are doing that physical, concrete work that makes people feel like they can turn away. Because if you do turn away, then you get, say, the President of the United States giving this statement [about abortion] with no concrete action really, and calling out actual leftists for [even] wanting him to say "abortion." So it's difficult to step away, but I think it's necessary. And so step away. Please step away.
STACEY ABRAMS GREETING A VOTER IN ATLANTA IN MAY 2022 (PHOTO BY JOE RAEDLE VIA GETTY IMAGES)
Do you believe that we will get the leaders we need who can effectively shift the balance?
I believe that we will. I have hope — whether it takes five years, 10 years, it could take 50 years, honestly — that the United States can have a full on leftist movement that's not malicious in the way that the right is, but is intentional in that way of We're starting at the ground level, school boards and all the local elections, and attorneys generals.
A person I'm incredibly inspired by is Stacey Abrams. She just picked up the baton of voting rights organizing and just ran with it. I'm inspired by the fact that she doesn't play the short game: It took 10 years for her organization to do what it did in the 2020 election. And she's still working, like, Okay, there's a single victory. We registered all these new voters. We keep going, we keep going, we keep going. That is what I think hope looks like.
I suddenly feel like hope is also maybe just acting with moral integrity towards ourselves and others.
I mean, they're not too far apart. It really is [the] moral integrity of It can stand for a while, but it can't stand forever. I don't think we're going to end up in a civil war or anything that extreme, but in terms of people taking to the streets and protesting, it's going to continue. The United States is on a fast track to authoritarianism. [But] if this country is what I think it is, I don't think that will stand.
There are enough of us.
More than enough.
This moment when abortion rights protesters crossed paths with trans rights protesters and they cheered and hugged.

Pilots volunteering to airlift patients out of red states who need access to abortion care.
A new Beyoncé album is coming in 13 days.

A new season of Emmy-nominated Quinta Brunson's Abbott Elementary is happening.

The reassurance that some of our ancestors overcame the impossible and we can, too.
If you know someone else who could use a little reason to hope, go ahead forward this email to them!
You are receiving this email because you have subscribed to our newsletter.