Who hurt you GOP? It wasn't trans people
Dear Meteor readers,
Allow me to be the millionth person today to wish you a happy and prosperous Pride via email! We made it to June, the corporate rainbow washing is in full swing, and that humidity in the air is just the unshed tears of all the right-wing homophobes whose screams about the "gay agenda" will be drowned out by hot gurlz on motorcycles popping wheelies over rainbow crosswalks. Don't you just love this time of year?
In today's newsletter, we take a moment to reflect on what Jennifer Finney Boylan calls the transgender tripping point and the irony of increased visibility coexisting with the most aggressive attacks we've ever seen on trans rights. Hot: Laverne Cox Barbie. NOT: Over 300 pieces of anti-trans legislation in 2022.
Before we get to that, a little bit of news—including the utterly baffling verdict in the Johhny Depp, Amber Heard defamation trial.
Tasting the rainbow,
Shannon Melero
Nobody won: A jury has found Amber Heard liable in the defamation trial brought by her ex-husband Johnny Depp over a 2018 Washington Post op-ed Heard had penned, where she claimed she was a victim of domestic violence but did not name Depp specifically. Yes: He told friends he wanted to "fuck her burnt corpse," but here we are, with the entire internet erupting with joy and our actual elected representatives posting in Depp's favor. Depp was also found liable in Heard's defamation countersuit, although she owes him about seven times more than he owes her. Whatever you think about the case itself, the use of it as a referendum on the credibility of survivors will be far-reaching. As Jaclyn Friedman wrote here on Saturday, "If Depp wins the suit against Heard for saying she was abused—again, without even naming him!—it is going to get a lot easier for abusers everywhere to use the courts to silence the exes they abused, too." If you or someone you know should need it, the National Sexual Assault Hotline is 1-800-656-4673.
Lone Star lunatic: Picture this, if you can. You are Governor Greg Abbott. You have tirelessly worked to destroy the lives of trans youth, strip Texans of their reproductive rights, and you've just witnessed a wholly preventable mass shooting in your state. And then you fix your mouth to say, "We as a state, we as a society need to do a better job with mental health," and you expect people to believe you really mean that. Just a month ago, this motherfowler diverted $211 million from Texas' Health and Human Services Commission, which oversees mental health programs in the state, and gave that money to a beefed-up border patrol program called Operation Lone Star. Gaslighting, thy name is Greg! Here are three non-profit organizations providing mental health services in the Uvalde area.
Canada gets it: Prime Minister Justin Trudeau has seen the horror endured by his neighbors to the south and is taking action. On Monday, Trudeau introduced new legislation that would prevent Canadians from "being able to buy, sell, import, or transfer handguns." This latest move comes two years after Trudeau banned assault-style weapons in his country, a ban that several countries have instituted but that America tried in 1994 for 10 years and then let expire and rot like the ugly apple in an overcrowded Trader Joe's. The Canadian bill would also immediately revoke firearm licenses from anyone involved in domestic violence cases or criminal harassment (i.e. stalking). Where the bill falls short (in my humble non-Canadian opinion) is that it does not require current handgun owners to surrender their firearms, which at this moment in time feels like a good thing to do. But considering I live in a country that does next to nothing after children are gunned down in school, I guess I'm not really in a position to judge.
AND: 
A TWENTY THIRD (23rd!!) woman has filed a civil lawsuit against NFL player Deshaun Watson for "inappropriate sexual conduct." Despite the 22 previous lawsuits, Watson is still employed by the Cleveland Browns and I hope y'all are all ashamed of yourselves.

Meteor superstar Samhita spoke to Elizabeth Warren for The Cut about why we have to keep fighting even when it doesn't feel like we'll win.

Local New York woman Cindy Melero is graduating college after taking a break from higher education to raise her child Shannon Melero, who happens to be typing this sentence. Congrats, mom!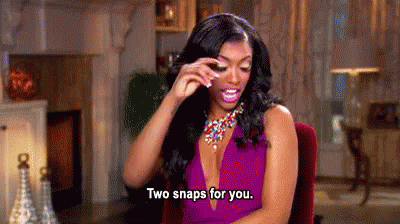 IT WASN'T SUPPOSED TO BE LIKE THIS
The Transgender Tripping Point
Reflections on a decade of wins and losses 
BY JENNIFER FINNEY BOYLAN
SHE'S BEAUTY AND SHE'S GRACE (PHOTO BY EMMA MCINTYRE VIA GETTY IMAGES)
There she was, on the cover of Time magazine, fabulous and poised in a creamy blue dress. It was 2014, and Laverne Cox was wearing an expression that said: Our time has come. It was, as the magazine's headline proclaimed, the "Transgender Tipping Point."
That was eight years ago—although, in trans years, it may as well have been a lifetime.
In March, as she interviewed Ketanji Brown Jackson for her seat on the Supreme Court, Sen. Marsha Blackburn (R-Tenn) demanded that Justice Jackson define "woman." The justice refused.  "I'm not a biologist," she replied.
The moment served as a rallying cry for the right, supposedly framing Jackson as a radical. You could imagine conservative heads shaking sadly all across the nation—a nominee for the highest court in the land, unable to describe the most obvious thing in the world!?
As if it were obvious.  As if sex and gender are simple as pie; as if these were things that they themselves could easily define if pressed.
How we moved from the great transgender "tipping point" to the "tripping point"—with over 300 laws introduced to restrict our rights this year alone—is the story of how the increased visibility of trans and nonbinary people became the very thing that inspired conservatives to try to erase us.
Transgender people are not new: On a recent visit to the National Archeological Museum in Naples, Italy, I gazed upon an ancient fresco of a hermaphrodite, a portrait unearthed in the ruins of Pompeii.  As a trans woman myself, it was hard not to look upon that fresco with a profound sense of joy and recognition. People like me, I thought, have always been here.
In fact, the "tipping point" in my own lifetime was made possible by people fighting for our rights:  Sylvia Rivera, Canary Conn, Kate Bornstein, Jan Morris, Jamison Green, Bamby Salcedo.  Each of them, in living their lives in public without shame, has helped light the path for the next generation.
But 2014 felt different.  Laverne Cox starred in "Orange Is the New Black." That same year, Janet Mock published Redefining Realness, a book that became an instant classic.  Amazon Studios launched the series "Transparent," a show that depicted the ripple effects upon the Pfefferman family when the family patriarch (sic) comes out as trans. (I served as a consultant to that series in the early stages of its development).
There had been visibility before, of course.  But this was something else—trans people telling their stories on their own terms with complexity and nuance. Surely, I remember thinking, this gave us hope for greater acceptance and understanding?
But with increased visibility came new dangers. When I transitioned, back at the turn of the century, a lot of people didn't know they were supposed to hate me; most of the people I knew couldn't have told me the difference between a transsexual and the trans-Siberian railroad. In the absence of a movement of orchestrated pushback, I found myself greeted mostly with acceptance and love, even if that love did not necessarily come with a full understanding of my experience.
I don't really get this, a colleague wrote to me, back then. But you've always been my friend. My mother, the evangelical Republican, put her arms around me and suggested I write a book. "You could open a lot of hearts," she said.
That was then.       
Now, when I publish pieces about trans lives, I inevitably receive hostile, accusatory rejoinders: What about that trans person on the Yale swim team? Why are five-year-olds getting to choose their gender? What about the way trans women "erase" cis women?  What about this word "cis" itself?  Whose idea was that, and why is my kid being forced to say it? 
THE KIDS GET IT. (PHOTO VIA GETTY IMAGES)
None of these are easy questions, although I'm glad to have a thoughtful, nuanced conversation about each of them in turn, should you wish. But we're not really doing thoughtful and nuanced these days.
Let's be clear, I'm not arguing against visibility. I agree with Audre Lorde:  "Visibility which makes us most vulnerable," she said, "is that which also is the source of our greatest strength."
That strength is needed now more than ever.  Now that they know we exist, states with conservative legislatures are passing bills making it a criminal act to provide health care to trans kids, making it impossible for trans kids to play sports, and making our lives as miserable as can be.  Last month, in Alabama, Gov. Kay Ivey signed a bill forcing trans youth to detransition, and every day a new bill is proposed.
If there's a bright side to this moment—and believe me, I have to look pretty hard to find one—it's that Republicans are realizing they themselves can't define what it means to be a "man" or a "woman." Sen. Josh Hawley (R-Mo.) said it's "someone who can give birth to a child, a mother, is a woman. Someone who has a uterus is a woman. It doesn't seem that complicated to me."
When he was asked if someone who has had a hysterectomy is still a woman, his face clouded, as if suddenly it occurred to him that something he thought was "not that complicated" was, indeed, a question much harder than he had imagined.
"Yeah well, I don't know," he said, uncertainly. "Would they?"
Jennifer Finney Boylan is the Anna Quindlen Writer in Residence and Professor of English at Barnard College.  She is a Trustee of PEN America and a Contributing Opinion Writer for The New York Times.