The Rhetoric That Led to the Club Q Violence
Greetings, Meteor readers,
We are in the midst of that very weird week at the end of November where there's too much to do and not enough time to get it done. Folks are traveling, seasoning their birds, decorating their homes, or mentally preparing for the obligatory interaction with that one uncle you're almost certain was there on January 6th even though you can't quite prove it. Or perhaps you're doing none of this and simply reflecting on the real history of this holiday. (If that's you, here's some extended listening to get you through the week.)
Wherever you fall on the Thanksgiving celebration spectrum, we just want to say we're grateful for each minute you've spent with us in your inbox. The greatest gift is community, and we're honored to have you in ours.
In today's newsletter, we mourn the loss of five lives in the Colorado Springs shooting and catch up on a few other things going on in the world.
Writing from the land owned by the Lenni Lenape,
Shannon Melero

Grieving Club Q: The country is still reeling from the shooting in Colorado Springs, where a gunman opened fire inside an LGBTQ+ nightclub, killing five and injuring 18. The victims have been identified as Raymond Green Vance, Kelly Loving, Daniel Aston, Derrick Rump, and Ashley Paugh. This tragedy shines an ugly spotlight on the many ways our culture says "never again" after each horrific incident while continuing to act in ways that ensure that there will be another.
Like many queer gathering spots, Club Q was described as a haven for the community—and an especially necessary one after a year of anti-trans legislation, harmful queer-phobic rhetoric from politicians, and a targeted attack on drag shows by the right wing. (In 2022 alone, according to the Counting Crowds Consortium, there were more than 40 right-wing actions targeting drag shows and Drag Queen Story Hours—like the brunch Club Q was planning for the day after the shooting occurred.) Now the same politicians who so adamantly charged their constituents to rally against drag queens, transgender people, and LGBTQ+ folks in general are now sending thoughts and prayers to those affected by the shooting.
And then there's the second issue at hand: inadequate gun laws. Colorado's "red flag" laws require civilians to report incidents of violence involving gun owners so that a red flag can be triggered and their firearms can potentially be seized. But this case shows those laws are of little use. Last June, Anderson Aldrich, the suspected Club Q shooter, was arrested for issuing a bomb threat—but because he was not charged, and no one who knew Aldrich filed a report, he was allowed to keep (and allegedly use) his firearm. Colorado State Rep Tom Sullivan told AP, "We need heroes beforehand—parents, co-workers, friends who are seeing someone go down this path." But we need politicians to be heroes here and pass stronger gun laws. The firearms used at Club Q (one of which was an AR-style weapon) were legally purchased by a man who had already proven himself capable of violence; this is not a problem we should be turning to good Samaritan citizens to solve.
  AND:
Election denier and Arizona gubernatorial election loser Kari Lake has suddenly become very concerned about voter suppression. The extremely convenient tonal shift comes amid (debunked) GOP claims that voting machines used at the polls were not up to code. The situation has become so dire that some election officials have actually gone into hiding after receiving death threats.
Even if you're not watching, it's nearly impossible to get away from all the goings-on at the World Cup in Qatar. One of the few positives coming out of the tournaments (other than Messi being humbled by Saudi Arabia in a historic upset) is the act of solidarity from the Iranian national team, who refused to sing their country's national anthem during their opening match. One fan told Reuters, "All of us are sad because our people are being killed in Iran, but all of us are proud of our team because they did not sing the national anthem—because it's not our national (anthem), it's only for the regime."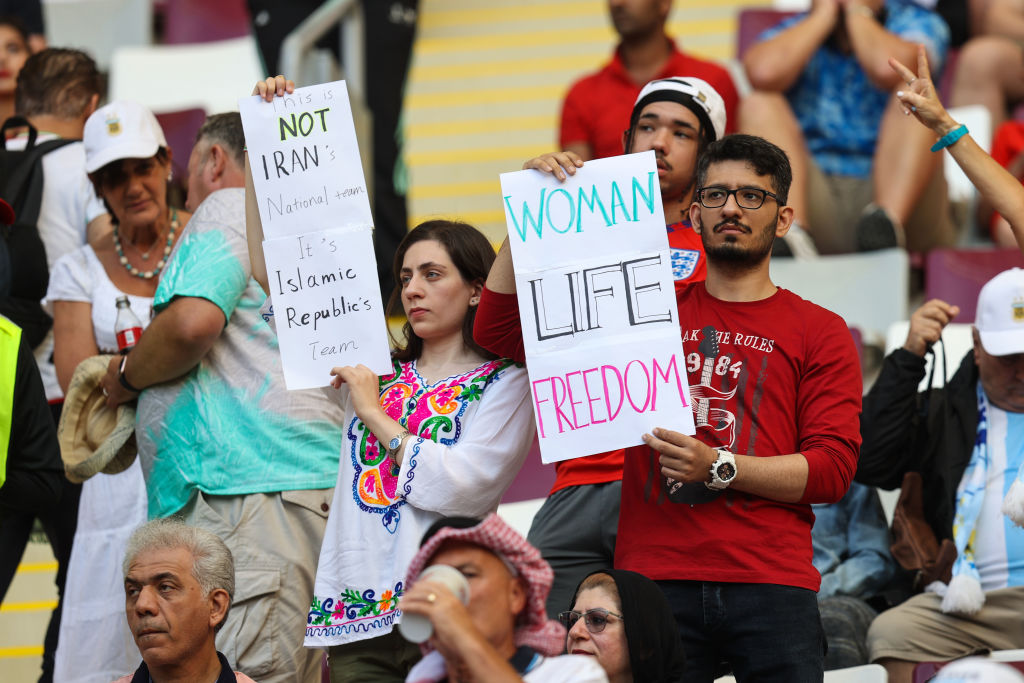 GATHER ROUND, ELDER DISNEY MILLENNIALS! I HAVE NEWS! Brandy, one of the best ever to play Cinderella on screen, will be reprising her iconic role in Disney's next installment of its Descendants film franchise. Make sure your pitch pipes are ready; rehearsals for the "Impossible" sing-a-long begin at dawn.