With Five Days to Go, Two Women Running for Governor Talk to The Meteor
Stacey Abrams and Katie Hobbs on their historic runs
BY ASHLEY SPILLANE
November 3, 2022
The people we elect on November 8 will decide the future of voting rights, abortion rights, healthcare, the economy—and so much more. And in many states, protecting key civil rights will come down to the results of a single race: governor. 
With five days to go until Election Day, I talked to two candidates I've had the privilege to meet through my work in civic engagement: Stacey Abrams, the voting rights champion from Georgia who could become the country's first Black woman governor, and Katie Hobbs, the Arizona Secretary of State who oversaw the 2020 election administration and now finds herself in a tight race against Kari Lake. Both women are running for the highest office in their state, and the stakes couldn't be higher.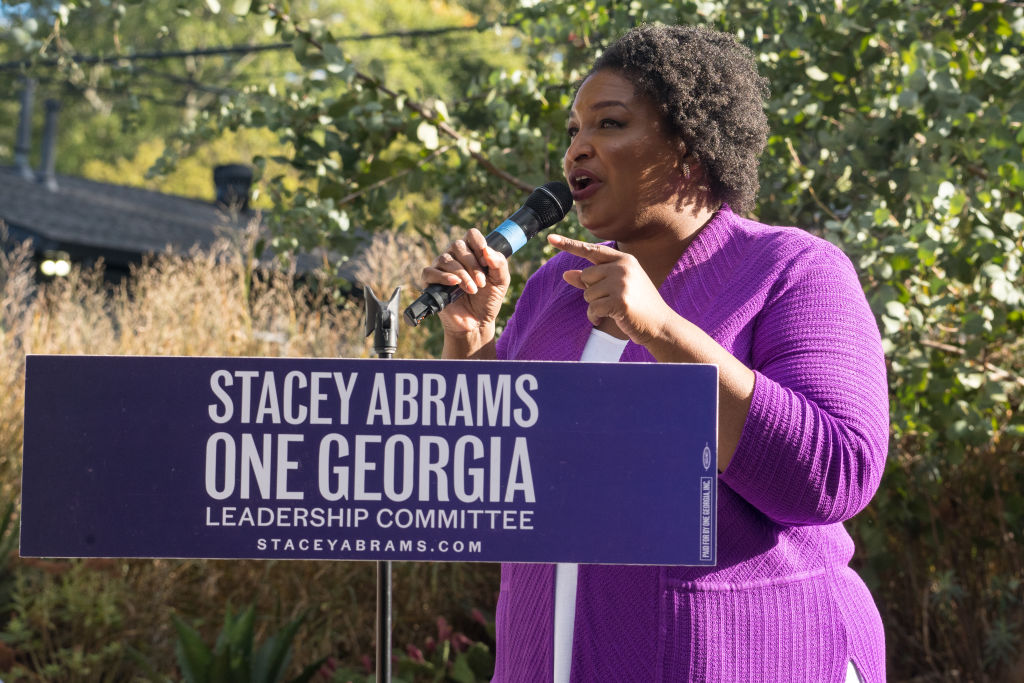 Ashley Spillane: You're both running for governor. Tell me more about why this position matters. 
Stacey Abrams: Governors are the CEOs of the entire state, charged with implementing laws, crafting a budget, and overseeing state operations. Most people think of Washington, DC when they think about who has the greatest impact on policy, but the truth is…governors have the most impact on our lives. 
We know it is so important to have women in all kinds of leadership roles; studies have shown [corporate] female CEOs make better political leaders, are better with money, are better collaborators, and care more about others than their male counterparts. Having women serving in the highest state office willing to collectively lead important debates is critical. Over reproductive rights, of course—but also about voting rights, marriage equality, kitchen-table economic issues, and how our democracy as a whole should operate more equitably. 
Katie Hobbs: Despite making up over half the U.S. population, women constitute just 24% of the Senate, 28% of the House, and about 30% of all state legislative seats. Since its formation, 116 people have served on the Supreme Court; only six of them have been women, four of whom are serving now. Not to mention that literally every U.S. president who has appointed these judges has been a man.
As for governors, there are only nine women in those roles right now. Many of them are seeking re-election this year. Some [candidates], like me, are running against anti-choice women, and others, like in Stacey's race, are challenging male incumbents who have vowed not to use their veto pen to protect our rights. 
If legislatures pass even more of these cruel laws, governors are the last line of defense to stop them.  
Governors' races seem more hotly contested this year. Why now?
Katie: We're at a crossroads for our democracy, and everyone's realized the importance of state officials in protecting (or killing) it. I'm running against someone who denies the 2020 election results and has not said if she will accept the results if she or her party lose in the future. There are people running for governor, secretary of state, and attorney general across the country who are actively undermining our democracy and working to overturn the will of the people for their own political gain. 
Stacey: As the Supreme Court removes federal protections and devolves them to the states, governors will also serve as a last line of defense for your hard-fought rights. In this post-Dobbs, post-January 6 era, with voting rights and civil liberties at stake, women governors are positioned to lead a nationwide effort to take back the decisions that should be ours alone. Little girls growing up in this era, particularly little girls of color, are counting on women leaders.
Speaking of the post-January 6 era, how has it been to run for office during this time? 
Katie: It's certainly moved the conversation away from the serious challenges facing our state, and instead, we're relitigating things that should be settled facts. I'm asked every day if I'll accept the results of this upcoming election, if I'll certify the 2024 presidential election as governor, and if I believe in the integrity of our democratic systems and institutions. Of course, my answer is unequivocally yes to all three, but my conspiracy theorist opponent disagrees. And so, these basic facts have become part of our political discourse throughout this campaign. 
And then there's the heightened level of vitriol. I've received numerous death threats, I've had armed protestors outside my home, and my children have been the subject of threats. [Just last week, Secretary Hobbs' campaign office was broken into.]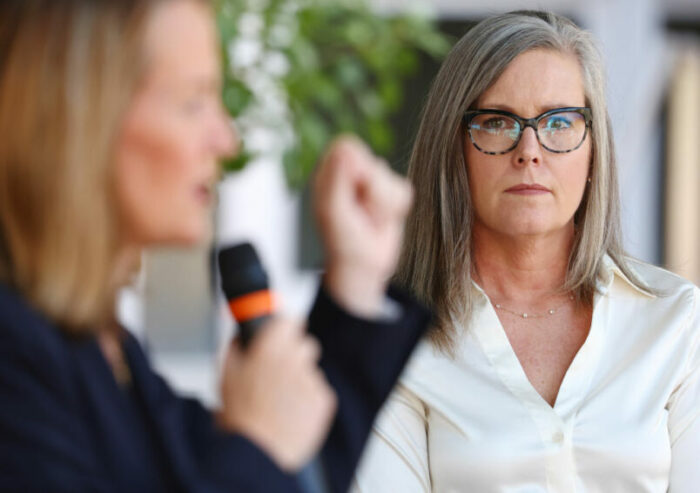 How do you navigate campaigning in such an intense political environment? 
Stacey: I stay focused on what is at stake—for women's rights, for our democracy, for people of color.  My opponent, Brian Kemp, is considered the architect of modern voter suppression by denying over a million Georgians access to the ballot. Katie's opponent is someone who has advocated against the outcomes of elections and for overturning the will of the people. Both are clear and present dangers to our democracy. 
I am supported by an incredible group of women who are in similar positions, running for statewide office this year to protect our democracy and our rights. Katie and I have gotten to know each other by sharing this experience, and it helps. 
Katie: Stacey and I have developed a real friendship through this process, not just with each other but with women who have run for governor (and won) before, like Gretchen Whitmer of Michigan. We face similar challenges as female candidates: fighting to raise money, doubts about your ability, expected deference to male counterparts, questions about your appearance and looking gubernatorial—especially in this polarized political environment. 
At the end of the day, it is helpful to have someone who understands what you're going through. Stacey and I stay in touch by phone and text. She'll send a virtual high-five if she sees me on TV or checks in on how I'm doing after more reported threats. 
For people reading this feeling demoralized by politics,  what do you want them to know? 
Stacey: First: Don't lose hope. Governors have disrupted the over-reaches of government before, and they have moved much faster than Congress. As an example, governors signed legislation granting the right to vote to women and legalizing abortion long before Congress or the Supreme Court got in on the action. If you care about these things, read up on who is running for governor in your state and vote accordingly. 
Second: Get to the polls. Bring your friends, bring your enemies, bring people you're mad at and people who are mad at you. Bring people you broke up with and the people you want to get with. 
Finally: Stay involved. Should Katie and I win our gubernatorial races on November 8, we will most certainly govern with anti-choice, anti-voter, male-dominated Republican majorities in both chambers of our respective state legislatures. We are not [just] the last line of legislative defense for women and voters in our states (especially women and voters of color) and for our LGBTQ+ communities; we are the only defense. Having realistic expectations of what we can do—and getting familiar with who represents you at the very local level—can help us. 
Katie: And be sure to talk to your friends, family, and colleagues about what's at stake in these races. Only half the country voted in the last midterm election, after all. 
This interview has been edited and condensed.
---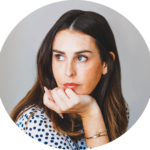 Ashley Spillane is a social impact strategist, civic engagement expert, and founder/CEO of the (nearly) all-female firm, Impactual. Her work has been featured on The Washington Post, The New York Times, Harvard Business Review, Glamour, and Marie Claire.