Reproductive Rights and Justice in 2021: Come learn what's ahead
Join our nonprofit affiliate The Meteor Fund for two upcoming workshops
The election is behind us—but abortion access, reproductive justice and maternal health are still on the line, and will be front and center in 2021. With a record number of recent conservative appointments to the federal judiciary and the most conservative Supreme Court we've seen in years, plus a maternal health crisis that hits Black and brown women hardest, there are critical priorities for the year ahead. To understand the issues and learn how you can get involved, join our nonprofit affiliate The Meteor Fund, along with the Center for Reproductive Rights, Women Engaged, and Changing Woman Initiative for our workshop series. You'll hear from legal experts and grassroots organizers about what we all need to know now.
REPRODUCTIVE RIGHTS AND JUSTICE: WHAT'S AHEAD IN 2021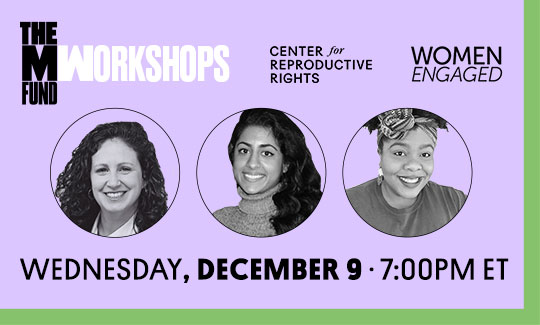 In The Meteor Fund's first workshop, hosted by Dahlia Lithwick of Slate with Fajer Saeed Ebrahim of the Center for Reproductive Rights, and Michelle Wilson of Women Engaged, we'll cover topics like:
What's ahead in light of the new Supreme Court and the current political climate

The widespread state-level damage to abortion access—and possible solutions

Proposed legislation that would advance women's reproductive rights and justice
Most of all, we'll learn what we can each do to make a difference. No subject knowledge or organizing experience necessary—everyone is welcome!
---
MATERNAL HEALTH: JUSTICE FOR MOTHERS IN
The U.S. has the highest maternal death rate in the developed world—and Black moms are hit the hardest, dying at 3 to 4 times the rate of their white counterparts. The second workshop in The Meteor Fund's series—this one held in partnership with the Center for Reproductive Rights and Changing Woman Initiative—will focus on the deepening maternal health crisis in the United States.
Hosted by Jamia Wilson (Random House and founding member of The Meteor Fund advisory board) with Breana Lipscomb of the Center for Reproductive Rights and Marinah V. Farrell of the Changing Woman Initiative, the conversation will cover topics such as:
Structural racism in our maternal health care system

Proposed federal and state policy solutions aimed at advancing reproductive justice
How you can get involved at a community, state and national level
Accessibility statement: The Meteor Fund welcomes individuals with disabilities to participate in its programs and activities. If you would like to request accommodations or have questions, please contact [email protected] in advance of your participation. Please note that we will make every effort to secure services, but that services are subject to availability.
The Meteor Fund is an affiliated 501(c)(3) project of The Meteor and is fiscally sponsored by New Venture Fund, a 501(c)(3) public charity.