Justice for Mothers in 2021: Come learn what's ahead
Sign up now for our workshop on Wednesday
The U.S. has the highest maternal death rate in the developed world, and Black and Indigenous moms are hit the hardest, dying at rates that are far higher than their white counterparts. The majority of these deaths are preventable—which is both a devastating commentary on our system, and, say advocates, a reason to make this issue a national priority once and for all.
That's exactly what the maternal-health and reproductive-justice movements are determined to do in 2021. Want to find out more, and learn how to help? Come join us tomorrow night for the second workshop in our nonprofit affiliate The Meteor Fund's series—this one held in partnership with the Center for Reproductive Rights and Changing Woman Initiative.
MATERNAL HEALTH: JUSTICE FOR MOTHERS IN 2021
Moderated by Jamia Wilson (Vice President and Executive Editor at Random House and founding member of The Meteor Fund advisory board) with speakers Breana Lipscomb of the Center for Reproductive Rights and Marinah V. Farrell of the Changing Woman Initiative, the conversation will get into topics like:
Why is the maternal mortality rate rising in this country?
Which solutions have been proven to help?
How we can all support the movement at a community, state and national level?
---
WHAT OUR COLLECTIVE IS INTO RIGHT NOW
The Meteor is guided by our collective; here's what one founding member is up to this week!
Osiyo! My name is Mary Kathryn Nagle. I am a citizen of the Cherokee Nation (and the United States) and a lawyer fighting for justice on behalf of Native families whose loved ones have been murdered, but whose murders have never been taken seriously. I am also a playwright, writing powerful narratives about powerful Native women!
I'M WATCHING The Social Dilemma, since we can't analyze the current political division in the United States without a deep understanding of how Americans get their information today, which The Social Dilemma deftly explains.
I'M READING A Sacred Path: The Way of the Muscogee Creeks, by Jean and Joy Chaudhuri.
I'M FOLLOWING IllumiNatives on Twitter. They are doing critical work to combat the invisibility of Native people in Hollywood, Washington D.C. and all facets of American life.
I'M DOING MORE playwriting.
I'M DOING LESS dancing, but I seriously need to do more!
I'M GETTING MY JOY FROM watching the first snowflakes fall from the sky.
THE LATEST ON UNDISTRACTED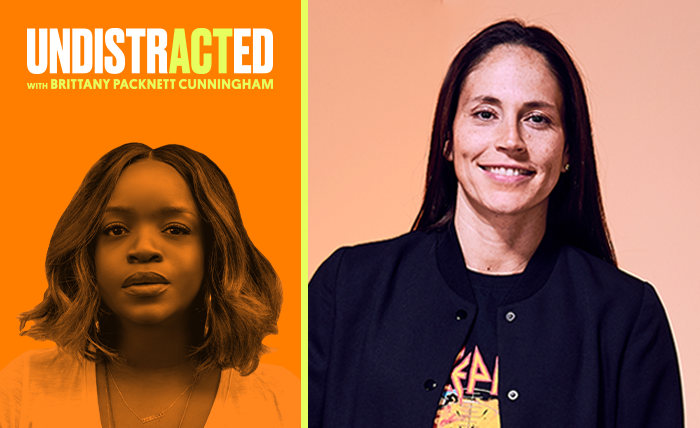 "The WNBA could play a role in flipping a seat to blue and that would be bigger than the championship."
—Sue Bird, four-time WNBA champion
On the most recent episode of UNDISTRACTED, Brittany Packnett Cunningham sits down with WNBA champion Sue Bird, who says she tried to "stick to sports," as women athletes are so often told to do, but that sports—and especially women's sports—end up being inherently political. Don't miss their conversation, which covers everything from the Georgia Senate runoffs to Bird's own story of finding her voice.