Join Gloria Steinem, Amanda Nguyen, and more at 21 For '21
Sign up now for our gathering on May 18 at 7pm ET (Event space opens May 13)
Everywhere you look, women and their allies are remaking the world.
The mission is urgent. Our systems of everything from justice to government to caregiving—all need change in order to elevate the concerns of the most marginalized. What will it take to shape a new, and infinitely better, tomorrow?
Come join us to hear more about exactly that at 21 For '21: Visions For a Feminist Future—a virtual gathering of artists and activists from different disciplines, all sharing their visions of the future for women, girls, and nonbinary people in 2021 and beyond.
Registration opens today, and you're the first to hear about it—please join us, and spread the word!
With five days of programming leading up to a virtual gathering on May 18 at 7pm ET (all free), you'll hear from global voices and grassroots leaders who are thinking in new ways—and get to share your own thoughts about what a more feminist future should look like, and how we'll get there.
21 FOR '21: VISIONS FOR A FEMINIST FUTURE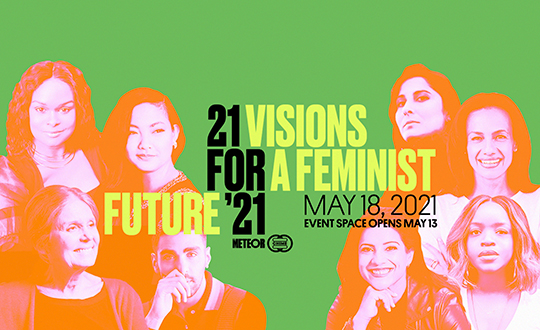 Here's a preview of just a few of the folks you'll be in conversation with: "UNDISTRACTED" host and MSNBC contributor Brittany Packnett Cunningham, writer Roxane Gay, advocate for the incarcerated Andrea James, Planned Parenthood CEO Alexis McGill Johnson, visual artist Shantell Martin, Rise founder Amanda Nguyen, Oscar-winning filmmaker Sharmeen Obaid-Chinoy, "Unholier Than Thou" podcast host Phill Picardi, Community Change co-president Lorella Praeli, Girls Who Code and Marshall Plan for Moms founder Reshma Saujani, feminist organizer Gloria Steinem, activist Raquel Willis, and many more. (Stay up to date on the latest developments at 21for21.live.)
Watch films, listen to conversations, and join the discussion about the years to come. The subjects at hand? As wide-ranging as the world we live in, because every issue is a feminist issue. Disability rights, climate, joy—it's all on the table, and your input will help us shape the agenda.
This free virtual event is open to everyone.
21 For '21 is a project of The Meteor, and is presented by CHIME FOR CHANGE, Gucci's global campaign for gender equality.
---