The Global Public Health Crisis We're Ignoring
It's gender-based violence—a slow, consistent,  menacing reality in the lives of women, girls and gender-nonconforming people worldwide that's been quietly getting worse, not better.
BY ANNA LEKAS MILLER
In 2015, world leaders convened at the United Nations to announce the 2030 Sustainable Development Goals. Target 5.2 was one of the most thrillingly ambitious: to eliminate all forms of violence against all women and girls in the public and private sphere by the year 2030. 
Halfway to 2030, though, not only are we far from that goal—we're regressing.
Every day in Mexico, at least ten women are killed—a rate that has more than doubled since 2015. In Iran, intimate partner violence rose 20% during the pandemic's first few months; in Spain, 23%. And in the United States, femicide—the killing of a woman because she is a woman—has increased by almost 25% since 2014. These aren't isolated examples; recent surveys indicate that gender-based violence (GBV)—a public health crisis that encompasses femicide, female genital mutilation, rape, online abuse, harassment, and more—is on the rise globally. 
"There's never been a more urgent time to address gender-based violence, and I've been doing this work for decades," says Rosa Bransky, CEO of Purposeful, a Sierra Leone-based organization that works with women and girls across Africa. "Globally, most of the advances of the past 20 years have been rolled back, and we're seeing both a rise of profound violence against women and a rise in women-led activism against it."
The data points are everywhere. Pick up your phone in late summer 2023, and you might see documentation of GBV in Italy, where the gang rapes of two young girls seized the country's attention; in Bosnia, where a man killed his ex-partner on Instagram Live; or even on a remote ice sheet in Antarctica, where women scientists report that harassment and assault are so commonplace that they work with hammers tucked into their uniforms to stay safe.
Like many epidemics, this one seems borderless, especially in our tech-fueled world. "Yet unlike any other epidemic, we're failing to properly research it or even take it seriously," says Leila Milani, program director at Futures Without Violence, a United States-based nonprofit. "When was the last time you heard a political candidate talk about it as a top issue? You don't—because it's not considered to be one." 
UNDERSTANDING THE UPTICK: FROM PANDEMICS TO "PATRIARCHAL AUTHORITARIANISM"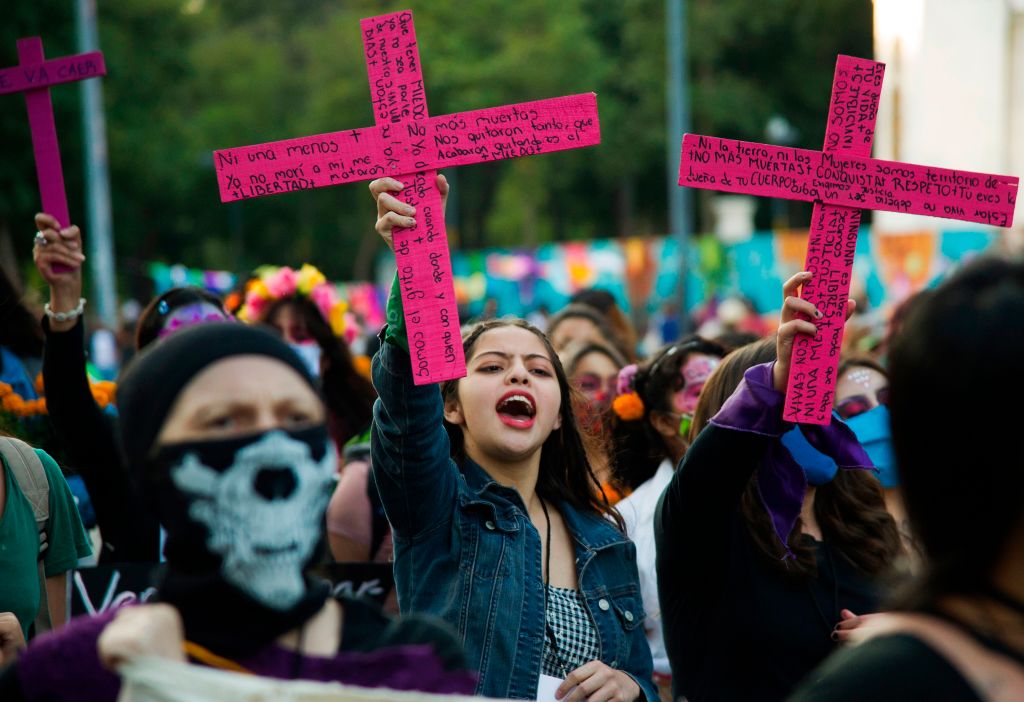 First, let's be clear: even when politicians don't always see this as an issue, the public certainly does. The last decade has brought wave after wave of powerful protests led by survivors and their allies. In South Africa, there was 2018's Total Shutdown movement, in which women took to the streets to protest the government's failure to deal with steep femicide rates. In Argentina, Ni Una Menos ("Not one less") started as a massive 2015 protest after the murder of a 14-year-old pregnant girl by her boyfriend; it ultimately helped usher in major political victories on abortion and other issues across South America. In 2017, the viral #MeToo campaign became a global movement demanding accountability from perpetrators.
But while survivors' voices still ring loud, rates continue to rise. 
The reasons are complex. COVID, of course, took a toll; domestic violence rates increased by 25 to 33 percent globally, and girls left school in greater numbers, elevating their odds of child marriage and intimate partner violence.
Other global trends play a role as well. The world is facing the highest number of violent conflicts since the Second World War, in places from Ukraine to Ethiopia—and women in conflict zones are more than twice as likely to be brutalized by an intimate partner. Add to this the fact that climate change, which disproportionately impacts the world's poorest and most vulnerable, also puts women at increased risk of violence—and Indigenous land defenders are frequently threatened with sexual violence while rarely being protected by the state.
"If you're a woman, non-binary or trans person, you're facing a level of risk in any context," says Celia Turner, partnerships management officer at Urgent Action Fund, a global consortium of regional feminist funds. "So in conflict zones, of course this risk escalates. We're also seeing that conflict is tied with climate change, so gender-based violence is often at the intersection of overlapping crises." 
The effects of climate change particularly impact Indigenous women and farming communities, who are accustomed to living off of the land. Additionally, Indigenous land defenders are frequently threatened with sexual violence, and are rarely protected by the state.
"Often, gender-based violence is seen as a private issue, but it is a highly political issue," says Rosa Bransky, the CEO of Purposeful. "It is connected to the climate crisis and the rise of authoritarianism—just as the world is burning, so are women's bodies."
Undergirding all these trends is our current era of what scholars call "patriarchal authoritarianism," in which strongmen leaders in dozens of countries have launched simultaneous assaults on women's rights and on democracy. In the U.S., the implications have been immediate: the overturn of Roe v. Wade in 2022 triggered  a doubled rate of reproductive coercion—in which an abuser sabotages a partner's contraception, intercepts birth control, or otherwise hinders their ability to control their own fertility.
"We are confronting a global anti-rights movement that wants to set back any progress on gender equality," says Monica Aleman, international program director for Gender, Racial and Ethnic Justice at the Ford Foundation. "And they must be stopped."
WHO GETS HURT: "THERE ARE A LOT OF STEREOTYPES"
In order for it to be stopped, Aleman notes, we must first recognize that violence doesn't affect everyone equally. Women of color and other communities with overlapping marginalized identities—for instance, gender-nonconforming people, or those with disabilities—experience the epidemic of violence disproportionately. "When we talk about gender-based violence, there are a lot of stereotypes and you think of 'cis man physically attacks cis woman,'" says Paige Andrew, a Trinidad and Tobago-based co-manager for FRIDA Young Feminist Fund. "But we need to address how violence shows up for people with diverse gender expressions." 
And it shows up more viciously: While nearly one out of every three women experiences physical or sexual violence in their lifetime—a number advocates agree is a vast understatement—almost half of trans women and nonbinary people do. (In the U.S., Black transgender women are especially vulnerable; they comprise 66 percent of all trans murders.)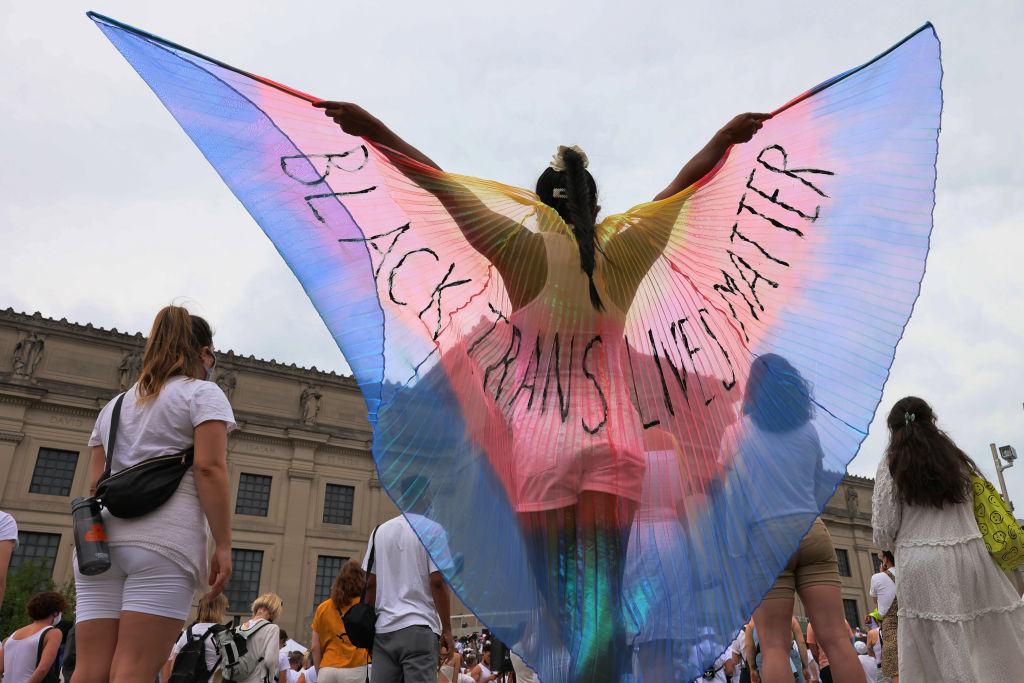 GBV also cuts along socioeconomic lines. "It is particularly bad in rural areas, where there are fewer resources for abused women," says Kristen Rand, government affairs director at the Violence Policy Center. Their 2022 report found that Native women in Alaska and Black women in the Deep South—historically the most economically marginalized groups—experience the highest rates of femicide in the United States. "Along with a lack of resources for women, there is easy access to guns and no mechanisms in place to make sure that abusers have their firearms removed," Rand explains. 
Still, these stories rarely make the front pages of our newspapers—and when they do, they are often treated as "true crime" tales, says Rand. "We are constantly frustrated with how the media covers [domestic violence] as just an incident,"—rather than as a systemic public crisis that might actually have solutions.
SO: WHAT ARE  THE SOLUTIONS?
Patriarchal defenses of GBV lie deep in our society—the idea that men brutalizing women is central to their gender roles, or an evolutionary fact. "The inevitability of violence—and the way that girls are taught that [it] is part of life—is one of the most violent things about violence," says Bransky.
That said, she and other advocates do have hope—mainly because they are watching young activists pioneer bold solutions to GBV around the world. In Sierra Leone, where Purposeful works, Bransky points to a group of girls living in the rural north who used grant money to set up a reporting protocol for instances of rape and sexual violence; activists also led the overturning of the country's ban on pregnant girls from attending school. 
And government will and political leadership are crucial here. After the Total Shutdown protests, South Africa hosted a presidential summit and created a committee to end GBV, resulting in the 2020 launch of a National Strategic Plan on Gender-Violence and Femicide. In the U.S. last May, the White House launched the United States' first national plan to combat gender-based violence. Advocates like Milani (who was an advisor) say this was overdue, pointing out that the U.S. is the only industrialized democracy in the world that has not ratified the United Nations' Convention to End All Forms of Discrimination Against Women (CEDAW), nor has it been able to pass the Equal Rights Amendment. 
Another solution, of course, is funding for solutions to ending GBV—something many advocates say is shockingly low. At The National Domestic Violence Hotline, calls have hit a historic high, but "at the end of the day, domestic violence will remain an epidemic in the U.S. because it is viewed as a 'women's issue' and thus is significantly under-resourced," says Katie Ray-Jones, CEO of The Hotline.
And even when funding exists, it can also reinforce geographic and social inequities, since major funders are often based in the Global North and set the agenda about how money should be spent, says Aleman. "Even when this funding reaches the Global South, it often only reaches the capitals—and isn't easily distributed to rural areas who need it the most," she says. "We need to make sure we're not reproducing the colonial model in our grantmaking."
But still—there are those thousands of people on the streets and social media everywhere from Rome to Johannesburg, showing us that they will not stop fighting for the eradication of  this epidemic. Advocates say that their passion provides a roadmap that politicians and funders should follow. 
For Aleman, it's all about having the courage to treat gender-based violence like the public health crisis it clearly is. "I want us to be more decisive in our response to the anti-rights movement here and abroad," she says. "We need to fund the feminist movement unapologetically and without hesitation."
Bransky agrees. The solutions are known and within reach, she says, if only we listened to the survivors themselves. "We don't need more innovation or task forces," notes Bransky. "The solutions exist"—and they're being led by feminist leaders everywhere. 
---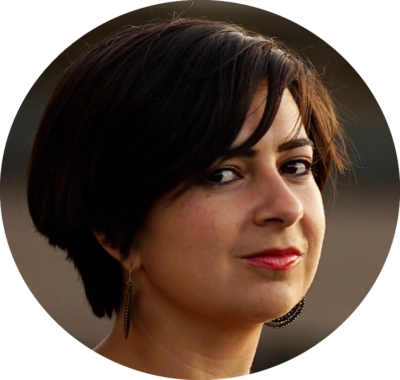 Anna Lekas Miller is a writer and journalist who covers stories of the ways that conflict and migration shape the lives of people around the world. She is the author of the book Love Across Borders and runs a newsletter by the same name. Follow her on Instagram: @annalekasmiller.
This is part of a new series between the Ford Foundation and The Meteor. Learn more at ourfreefuture.org.